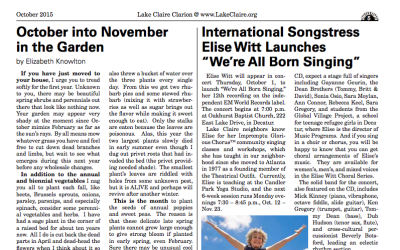 Lake Claire neighbors know Elise for her Impromptu Glorious Chorus™ community singing classes and workshops, which she has taught in our neighborhood since she moved to Atlanta in 1977 as a founding member of the Theatrical Outfit. Currently, Elise is teaching at the Candler Park Yoga Studio, and the next 6-week session runs Monday evenings 7:30 – 8:45 p.m., Oct. 12 – Nov. 23.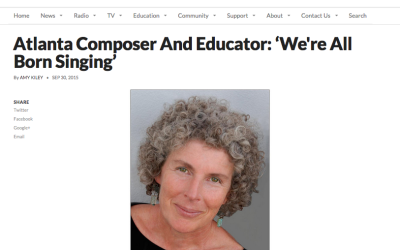 "We're All Born Singing:" that's the name of a new CD and book from Atlanta-area composer and singer Elise Witt. It's also her paradigm as a music educator. Witt will officially launch her album with a concert at Decatur's Oakhurst Baptist Church at 7 p.m. Thursday, but she gave Amy Kiley a preview. Witt began by explaining how she herself was born singing.
 Alternate ROOTS www.alternateROOTS.org

The Global Village Project www.globalvillageproject.org

The Hambidge Center for Creative Arts & Sciences



American Society of Composers, Authors, and Publishers ASCAP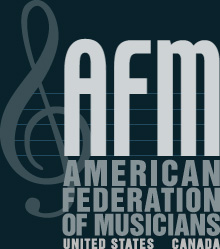 American Federation of Musicians AFM – Local 1000, a non-geographic local for traveling musicians
School of the Americas Watch

Children's Music Network
Music for People, the improvisers' network
Your workshop was totally inspiring!
-Joanna, NEW NOISE THEATER, New Orleans LA
Elise teaches great ways to access your deepest, most authentic, most beautiful voice.
-Leila, Atlanta GA
Elise is a master at guiding voices and opening hearts.
-Chorus manager, WomanSong, Asheville NC
You don't know how much I needed exactly what you gathered and offered – musically and spiritually.
-Lynn, Decatur GA
You help create positive, transformative experiences for people of all ages.
-Outreach Director, LEAF Lake Eden Arts Festival, Black Mountain NC