for Elementary, Middle, High Schools and Universities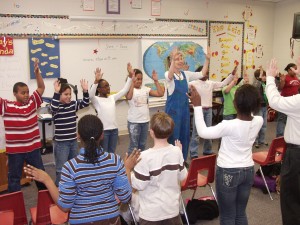 Elise has been a Visiting Artist and Artist-in-Residence in schools all over the country.
Elise works with students in elementary schools, middle, and high schools, as well as colleges and universities. Writing songs about everything from Prefixes & Suffixes, Secrets of Fractions, the Planets, and Contemporary Leaders, Elise and her students have made the learning of difficult subjects fun with their original songs. Her education workshops and concerts use music as a language to celebrate our cultural diversity while appreciating our connections as one human family. Elise currently serves as Director of the Music Program at the Global Village Project in Decatur GA.
PROFESSIONAL DEVELOPMENT
Elise is also a highly respected and sought after teacher of teachers, leading professional development workshops in a myriad of settings.
"I was totally impressed and awed with her fantastic voice and ability to inspire the students and teachers alike."  – High School language arts teacher, Thomaston GA
 Study Guide provided for all programs.