From Lauda Musicam's Henry Kahn:
Here's a chance to hear (and see) instruments from the Renaissance. This concert is a bit different from Lauda Musicam's usual presentation of the large ensemble. We'll perform primarily in small groups this time.
Lauda Musicam has a large collection of period reproduction instruments. Since instruments tended historically to play in like groups, music performances were intimate and music ensembles were small. Lauda members will play repertoire on appropriate instruments, giving a look (or a listen) into performances as they originally sounded.
This is a daytime concert, starting at 3 pm. There's ample free parking at St. Bartholomew's Episcopal Church, 1790 Lavista Road, Atlanta, GA 30329. Kids are welcome. They may be interested to see a variety of old instruments in small groups rather than the larger mixed ensemble.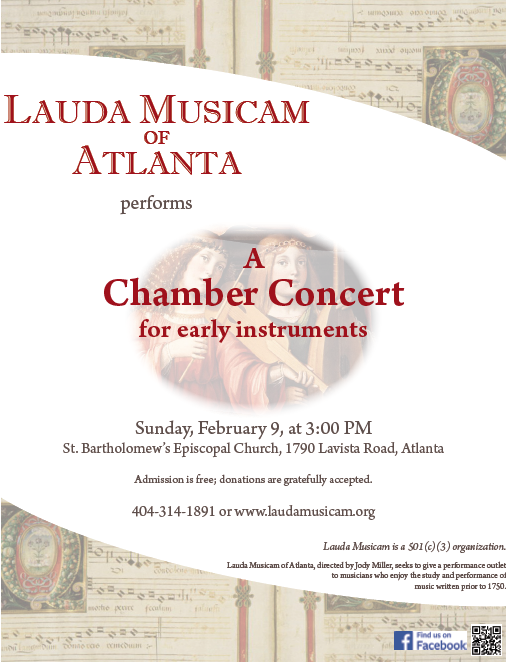 Elise's Highly Recommended List!
All about wonderful events happening in and around Atlanta
These are events that I'm not directly involved in, but know will be fantastic.
* This list is separate from my newsletter letting you know about my own workshops, classes, concerts, collaborations and recordings.