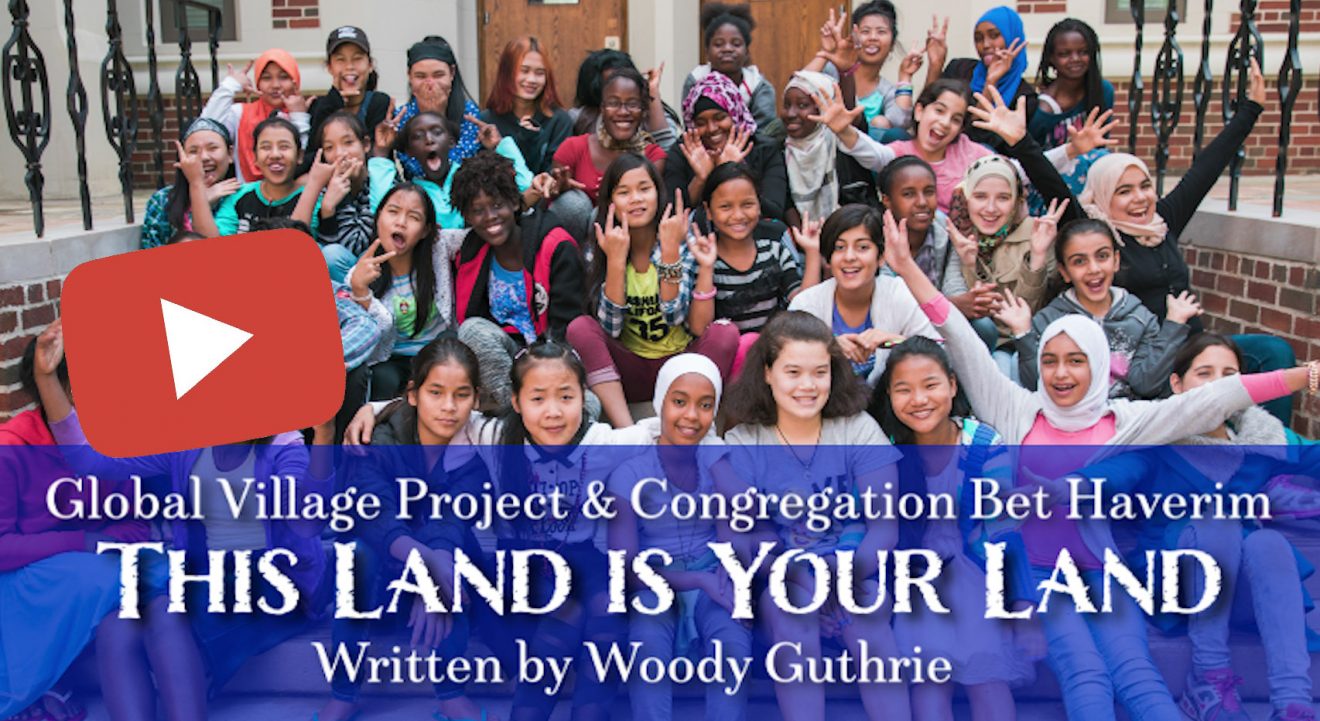 I'm very excited to share this beautiful new video that Jessica Lily created for Woody Guthrie's iconic song "This Land is Your Land." The music was recorded by the Congregation Bet Haverim Chorus and my students from the Global Village Project, celebrating Shabbat Shirah,
the Sabbath of Singing. Many congregations highlight this Shabbat by creating services brimming with extraordinary music to celebrate Moses and Miriam leading the Israelites across the Sea of Reeds (The Red Sea) and out of Egypt.
We especially enjoy singing some of the verses that are not as well known:
Was a great high wall there, that tried to stop me
Was a great big sign there, said "Private Property"
But on the back side, it didn't say nothing
That side was made for you and me
One bright sunny morning, in the shadow of the steeple
By the relief office, I saw my people
As they stood there hungry, I stood there wondering
If this land was made for you and me.
And thank you Will Robertson for the Chorus en espa
ñ

ol:

Esta tierra es tuya, esta tierra es mia
Desde el horizonte, Hasta la otra orilla
Desde las montañas, Costas, rios y valles
La tierra es para ti y para mi
Click HERE to watch the video


Stay Home and Sing
Earth Day Edition
WED. APRIL 22
1:00 - 2:15 p.m. EST
You must register for this event!
Register at: bit.ly/2Xsf8dc
After registering you will receive a confirmation email containing information about joining the song circle online.
If you are able, DONATIONS of any amount are gratefully accepted to cover the online platform and compensate our song leaders.
Click on your preferred form of payment here: PayPal or Venmo

A charismatic and highly entertaining pianist and singer, Eric Byrd has been directing choirs for almost 30 years, primarily in the black gospel church experience. He directs the United voices of Praise gospel choir at Messiah College, and leads the Eric Byrd Trio, featuring original arrangements of gospel, jazz, and blues
Lea Morris
Lea is a singer/songwriter, gifted guitarist and percussionist. She has released eight CDs of her "soul folk" music. She was raised in Baltimore, singing acapella harmonies in the Baptist church and with her mother's siblings: the Jones Family. Check out her layered videos:
Elizabeth is the founding director of The Freedom Choir, a 60-voice community choir celebrating it's tenth year. She is a singer and multi-instrumentalist with over 35 years of study and performance of world music. She is a member of the Ubuntu Choir Network and has taught numerous workshops in the U.S. and Canada.

Elise's Upcoming Schedule
April 22 ~ Your Home - YES! Online

April 25 ~ Athens GA - postponed

May 29-31 ~ Clayton GA ?

May 31 ~ Clayton GA ?

June 25-27 ~ New Market TN ?

June 28 ~ Luttrell TN ?

July 12-19 ~ Elkins WV ?

Aug. 4-9 ~ Arden NC ?

2021
June 27 - July 3 ~ Brasstown NC