READY TO RISE
An Evening of Original Music
with Elise Witt & Jascha Hoffman
FRI. MAY 18
7:00 pm Doors / 8:00 pm Music
511 4th St. (downstairs), Park Slope, Brooklyn NY
Admission by Donation at the Door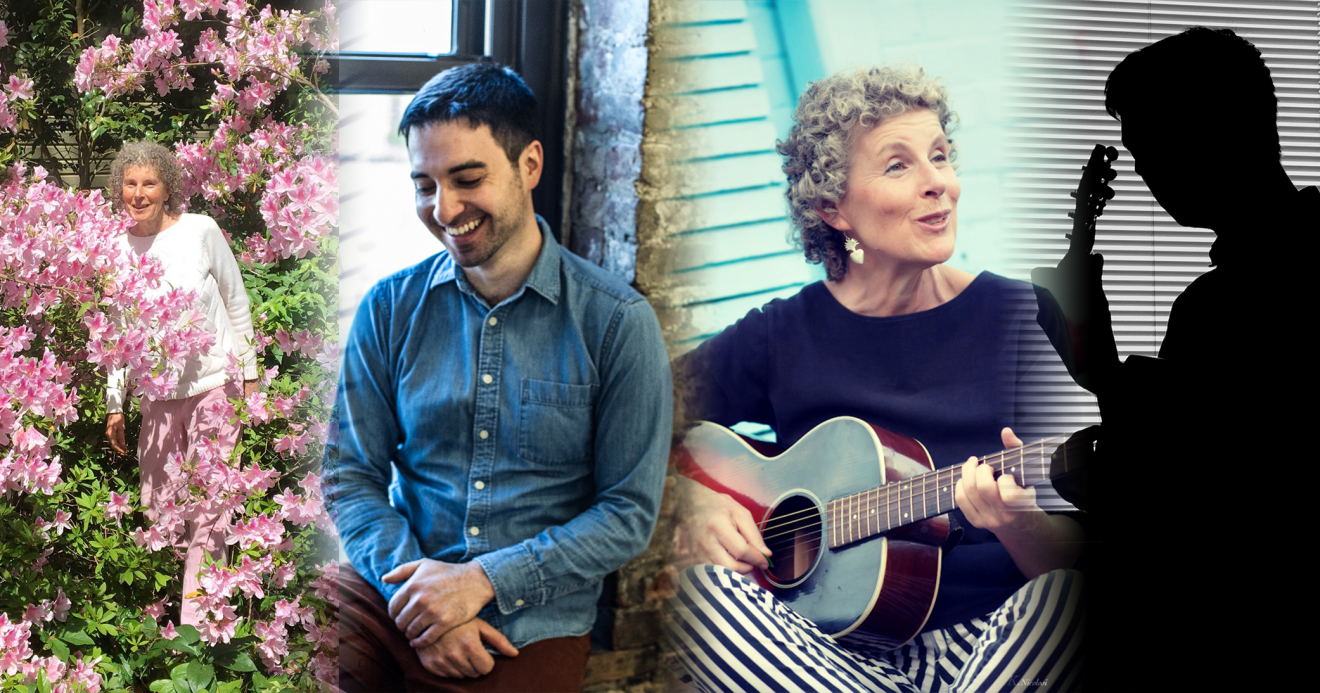 Atlanta's
Elise Witt
and Brooklyn's
Jascha Hoffman
meet in the music for an unusual collaborative house concert. Elise brings her multi-lingual songs of bees, bones, amoebas, gardens & justice to interlace with Jascha's eccentric songs about shipwrecks, insomnia, euthanasia &
alien abduction.
Inspired by their work with master vocal improvisor
Rhiannon
, Jascha and Elise believe that there is music in each of us waiting to be unleashed. Both lead community song circles at home and abroad, and love nothing more than to help a roomful of friends & strangers find fresh music in the air between us.

Elise was born in Switzerland, raised in NC, and since 1977 has made her home in Atlanta. She speaks five languages fluently, sings in over a dozen more, and has been a cultural ambassador to South Africa, Italy, Nicaragua, Switzerland, and China.
Elise's latest CD
We're All BORN SINGING
is her 12th recording for independent EMWorld Records, and more than 20 of her compositions have been arranged for choirs in the
Elise Witt Choral Series
Recipient of the William L. Womack Creative Arts Award, Elise currently serves as Artist in Residence at the Global Village Project, a special purpose middle school for teenage refugee girls. Elise also tours with
Terry Garthwaite
&
Becky Reardon
as the trio "
Natural Rhythms
."



Jascha Hoffman is a singer & teacher in Brooklyn NY. Songs from his early albums have been compared to Regina Spektor and Leonard Cohen

. His third album,

based mostly on obituaries, was featured on

NPR and American Songwriter

. His next album, The Weather, a set of love songs at the end of the world, will be released this fall

. As an improviser, Jascha sings with Moving Star at Carnegie Hall, and leads vocal gatherings in the New York City parks with Sounding NYC. He is addicted to Brazilian music.

Elise's Upcoming Schedule

May 2 ~ Atlanta GA

May 18 ~ Brooklyn NY

May 20 ~ New York NY

May 26 ~ Atlanta GA

June 23 ~ Atlanta GA

July 14~ Clarkston GA

July 15 ~ Kennesaw GA

July 21 ~ Florence MA

July 22 ~ Somerville MA

July 28 - Aug. 5 ~ Mad River Valley VT

Aug. 7 - 12 ~ Arden NC

Aug. 18 ~ Atlanta GA

Sept. 10 - Oct. 8 ~ Atlanta GA

Oct. 6 ~ Pine Lake GA

Oct. 15 - Nov. 5 ~ Atlanta GA

Oct. 26-28 ~ Atlanta GA

Nov. 8-11 ~ Pt. Richmond, Berkeley, Sebastopol, Santa Rosa CA
Nov. 26 - Dec. 17 ~ Atlanta GA

2019
June 23-29 ~ Brasstown NC