Dear Friends,
~ Give the gift of music this holiday season (and all year long!). Here are some ideas from my own catalog including ~ CDs ~ Digital Download Cards ~ Choral Music ~
and music I love by musical friends near and far.
~ Scroll down for some fun videos!
~ I hope to sing with you soon, in person or on record!
peace with harmony,
Elise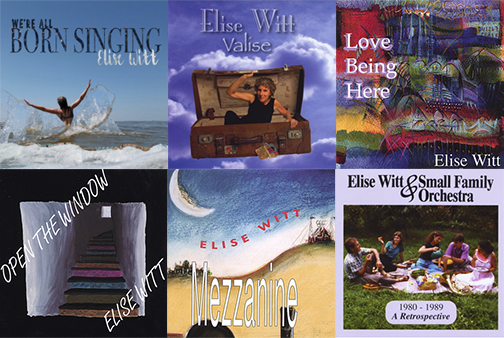 Global, Local & Homemade Songs™
Available as "old fashioned" CDs or Digital Download
And get 20% off, when you order 2 or more of any CDs!


Check out the Elise Witt Choral Series here:

So much great music in this world!
Here is an incomplete list of some of my favorites...
Thanks for supporting independent music!!

Elise's Upcoming Schedule

Dec. 22 - Jan. 5 ~ Matanzas, Varadero & Havana CUBA

2019
Jan. 7-28 ~ Atlanta GA

Feb. 4-25 ~ Atlanta GA

Mar. 1 ~ Decatur GA

Mar. 4-25 ~ Atlanta GA

Mar. 12 -15 ~ Atlanta GA

Mar. 19 - 24 ~ Tijuana MEXICO

Mar. 26 ~ Decatur GA

Mar. 29 ~ Raleigh NC

Mar. 30 or 31 ~ Durham NC

April 3 ~ Willow Spring NC

April 8 ~ Jasper GA

May 18 ~ Clarkston GA

June 8-9 ~ Verbania ITALY

June 15-16 ~ Cessole (Asti) ITALY

June 23-29 ~ Brasstown NC

Aug. 6 - 11 ~ Arden NC

Aug. 9 - 11 ~ Swannanoa NC