I'm thrilled to be coming to the Triangle Area of NC, where I grew up

(Knightdale)

and went to college

(UNC-Chapel Hill)

for a house concert

(Raleigh)

and vocal workshop/community sing

(Durham)

.
If you live in the NC Triangle, come on out! If you have friends there, please send them!
I hope to sing with you soon - scroll on down or click for my FULL CALENDAR.

Raleigh House Concert!
FRI. MAR. 29
7:30 p.m.
Space is very limited.
Reservations required.
Donation: $15-55 sliding scale
(please be affordable & generous)
@ 1623 Clark Ave., Raleigh NC 27605
with Special Guests
Margaret Martin (Hawai'ian guitar & banjo, vocal harmonies)
Wayne Martin (fiddle, vocal harmonies)
and...
I love house concerts!
* No technical complications.
* Intimate connection between artist and audience.
* Opportunities for improvisation and experimentation.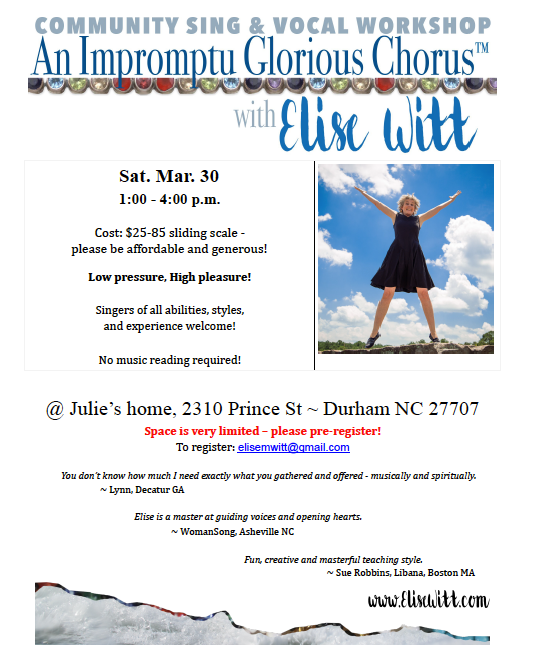 Elise's Upcoming Schedule

Mar. 1 ~ Decatur GA

Mar. 4 - 25 ~ Atlanta GA

Mar. 19 - 24 ~ Tijuana MEXICO

Mar. 26 ~ Decatur GA

Mar. 29 ~ Raleigh NC

Mar. 30 ~ Durham NC

April 3 ~ Willow Spring NC

April 8 ~ Jasper GA

April 15 - May 20 ~ Atlanta GA

April 27 ~ Atlanta GA

April 28 ~ Atlanta GA

May 3-5 & 10-12 ~ Atlanta GA

May 18 ~ Clarkston GA

June 6 ~ Perugia ITALY

June 8-9 ~ Verbania ITALY

June 15-16 ~ Cessole (Asti) ITALY

June 23-29 ~ Brasstown NC

Aug. 6 - 11 ~ Arden NC

Aug. 9 - 11 ~ Swannanoa NC

Sept. 6-15 ~ New England Tour

Sept. 14 ~ Goshen MA

Oct. 18 ~ Atlanta GA

2020
Feb. 9 ~ Brasstown NC

Feb. 29 - Mar. 8 ~ Hakalau HI

March ~ Atlanta GA

Aug. 4-9 ~ Arden NC