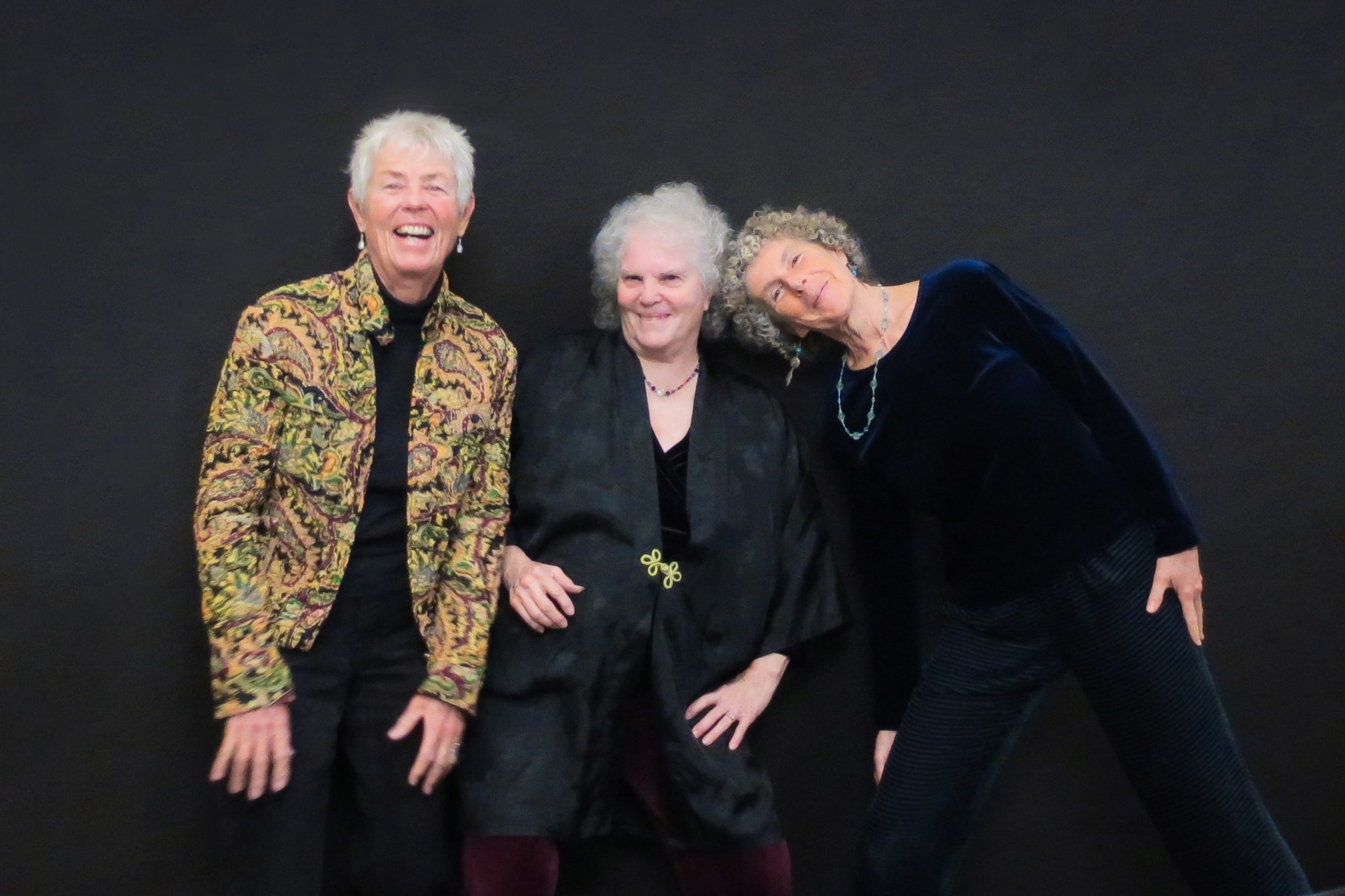 BECKY REARDON
TERRY GARTHWAITE
ELISE WITT
Imagine Janis Joplin, Joan Baez, Annie Ross and Edith Piaf taking a turn from Barbara Kingsolver and Dr. Seuss and you'll have some idea of these mad and moving musical adventures!
Whether it's a plaintive cry for families at the border, a polyrhythmic improvisation on the physics of sound, an anthem to the preservation of wild rivers and oceans, or a musical ride on the love train, Terry, Becky & Elise cook from the minute they hit the stage. Bringing three radically different voices to the blend, their voices find each other in that mysterious world of harmony in diversity. The trio's concerts are also famous for getting the audience singing, and even self-professed "non-singers" find themselves part of an Impromptu Glorious Chorus™.
~ Singing Circle Workshop ~
Singing together will take us deeply into the experience of being held and lifted by the sound of our voices making music together. We will be singing songs of celebration, ceremony and community, songs celebrating the earth and our own spirit and creativity, songs of healing and passage, songs of playfulness and joy. We will explore our wildly versatile voices in the rainbow of colors available to us individually and as an ensemble.
Each member of the Trio brings her specialty to the circle. Drawing from her love of diverse melodies and rhythms, Elise might introduce a Brazilian samba, a Congolese storysong, an Italian round, or four-part harmonies from Zimbabwe. Becky's connection to nature and jazz brings us to listening deeply to our own voice and each other, as we experience the being-in-the moment of easy improvisational games. Deeply rooted in rhythm, Terry introduces songs and games interweaving and interlocking us in vocal percussion. There are also lots of Terry/Becky/Elise originals, plus songs from the African American tradition, quirky rounds, food songs, and lots more!
All of the songs are broken down into easily learnable parts and become thrilling to sing in a group. Even people who think they "can't carry a tune in a bucket" in no time find themselves part of a glorious choir. Music reading is not a prerequisite.
---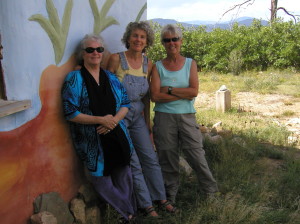 "Want to hear three totally unique yet complementary out-of-the-mainstream voices? Both in poetry and musicianship, Terry, Becky and Elise defy typical music categories while clearly drawing on folk, rock, jazz and non-western cultural rhythms and melodies. Their trio magically combines the surprising individual sensibility of each of these women who have fearlessly pursued an artist's drive for self=expression. Want to resonate with notions of responsible connection to other people, nature, and the challenging world around us? Sing along with the deep and delightful songs these women share so soulfully."

~ Donna Calame, Sunday Concert Series, San Francisco CA
"This may be the most unusual and musically exciting concert we have presented in our 11 years of 178 concerts!"

~ Jack Sartain, Producer, Music for Missions Concert Series, Tucker GA
"You were simply awesome and, as one customer put it, it was pure magic and the best show she's ever seen!"

~ Merle Dollar, Proprietor, Local Color, Springville AL
"Their voices are each unique in color and timbre, yet when combined, create a beautiful unified sound that melts the audience and carries them home.

~ Donald Milton, Director of Music, Unitarian Universalist Congregation of Atlanta, Atlanta GA
"'Supergroups' don't always gel together onstage, but this one sure does. Terry Garthwaite is a walking masterclass in blues and rock vocalise, Becky Reardon's songs, voice, and acoustic guitar reveal jazz roots, and Elise Witt's deep appreciation for and fluency in international folk musics open up the entire world in a single voice – and everyone is made welcome to sing along. Each performer seems to be completely at ease in the intimacy of a house concert or the formality of a large stage, and everyone involved is reminded that rhythm is what makes music move. What should we call this wonderful, unpredictable amalgam of talent and sound? How about 'American music'?"

~ Andy Ditzler, Frequent Small Meals Concert Series
"Liquid rhythms and vibrant vocals… musically intriguing and vocally intense.., ." — amazon.com
"Her simply-phrased, foot-tapping songs are positively infectious." — Napra Review
With a voice both "sassy and touching," Terry Garthwaite is an internationally known singer, songwriter, composer, producer, and teacher. Her recording career dates back to the late 1960s when she and Toni Brown formed the acclaimed rock group Joy of Cooking. She recorded several albums with the band, and then a dozen others by herself or in collaboration with other jazz and blues musicians. Terry has also produced recordings by other artists including Jasmine, Rosalie Sorrels, Rhiannon, Hunter Davis, Elise Witt, Robin Flower, and Ferron, whose Garthwaite-produced Shadows on a Dime was awarded four stars by Rolling Stone.
In performance, she has shared the stage with such artists as BB King, Janis Joplin, Bonnie Raitt, The Band, Allen Ginsberg, Santana, Rosalie Sorrels and writer Bobbie Hawkins at venues that include Carnegie Hall, the Joseph Papp Theater, the Hollywood Bowl, and Canadian Folk Festivals.
Terry's recent recordings reflect an awareness of the healing nature of music. Critically acclaimed Affirhythms and Sacred Circles include chantsongs, polyrhythmic puzzles, and songs of hope and heart. And her 2017 release Shine On encourages empowerment and delight, and includes some of her best songs yet. She currently leads vocal retreats, drum circles, and classes in singing together, playing with sound, and digging the musical garden.
"Becky Reardon, my favorite singer!" — Charles Schulz, creator of Peanuts
"Becky's songs elevate us spiritually and musically, and are as beautiful to listen to as they are to sing." — Kate Munger, Founder, Threshold Choirs
"I'll be singing your rounds and teaching them to choruses for the rest of my life. — Dan Inglis, Hampshire College
"Speaking of simple beauty, I commend you to Becky Reardon's CDs." — Richard Leiter, Keyboard Magazine
Becky Reardon's voice is familiar to the millions of people who heard her singing on the Charlie Brown TV specials. Her songs are sung in song circles across the US and the UK, and are treasured for their ability to move singers and listeners to ancient places of pleasure and healing.
Becky teaches and performs nationwide including singing her songs about the stars and moon to the NASA-sponsored Chaco Educators Institute in Astronomy. In her Joy of Singing Harmony Classes, she cultivates the use of improvised singing and movement to illuminate and resolve conflict. Her songs and rounds are collected in five CDs and books: Shift, Follow the Motion, Songs for a Walk, Inside the Outside, and Natural Rhythms, with Terry Garthwaite and special guest Elise Witt.
"A performer to remember with international savvy & personal charm" — The Kennedy Center
"A really delightful concert from the honey voiced Atlanta songwriter who sings the world." — Lincoln Center Out of Doors Festival
"Elise is a state treasure and we are so proud to be able to support her work." — Chair, Georgia Council for the Arts
"Wide horizons and a repertoire that borrows from many countries with a spirit of universal humanism" — Le Cri Du Coyote, France
Singer, Composer, Musical Ambassador, Community Activist, Elise Witt was born in Switzerland, raised in North Carolina, and since 1977 has made her home in Atlanta. She speaks five languages fluently, sings in over a dozen more, and has been a cultural ambassador to South Africa, Italy, Nicaragua, Switzerland, China, and Bosnia.
Elise's latest CDWe're All BORN SINGING, is her 12th recording for the independent EMWorld Records, and more than twenty of her compositions have been arranged for choruses and choirs in theElise Witt Choral Series.
Elise Witt is the recipient of the William L. Womack Creative Arts Award, which acknowledges artistic expression of a person or group that is using their talent to build bridges of understanding between diverse communities. Elise currently serves as Director of Music Programs at the Global Village Project, a school for teenage refugee girls in Decatur GA.