Legend has it Elise sang before she talked and she's been singing ever since.
Elise's concerts of Global, Local & Homemade Songs™and her Impromptu Glorious Chorus™ workshops create and connect singing communities around the world. Born in Switzerland, raised in NC, and living in Atlanta since 1977, Elise speaks 5 languages fluently and sings in at least a dozen more. The Elise Witt Choral Series features choral arrangements of her original compositions and All Singing, a songbook with 58 original songs including music notation, lyrics and chords, stories and photos is in the works! In addition to her global touring, Elise serves as Director of Music Programs at the Global Village Project, a school for teenage refugee girls in Decatur Georgia.
Legend has it Elise sang before she talked, and she's been singing every since. Elise has created a life combining her two passions: language and music. From her farm-ette in Pine Lake GA, she travels far and wide, instigating Impromptu Glorious Chorus™ adventures for singers and people who think they aren't singers, but secretly know that's a lie. "She could get a colony of ants singing!" enthused a workshop participant.
Born in Switzerland, raised in North Carolina, and living in Atlanta since 1977, Elise speaks 5 languages and sings in at least a dozen more. She has taken her concerts of Global, Local & Homemade Songs™ to Lincoln Center, the Kennedy Center and community centers around the country. She has been a cultural ambassador to South Africa, Italy, Nicaragua, Yugoslavia, Switzerland, and China.
Elise sang for 20 years with the Atlanta Symphony Orchestra Chorus and Chamber Chorus as well as the Robert Shaw Singers, with whom she performed annually at Carnegie Hall. She now composes music for choirs in the Elise Witt Choral Series, arranged by Michael Holmes. As a life-long student herself, Elise has studied extensively with masters of improvisation Bobby McFerrin, David Darling, and Rhiannon, African vocal expert Dr. Fred Onovwerosuoke, and Sweet Honey in the Rock's Dr. Ysaye Maria Barnwell, all of whose pedagogy she incorporates into her own teaching and composing.
Currently Elise serves as Artist-in-Residence at the Global Village Project, a school for teenage refugee girls from Afghanistan, Burma, Congo, Ethiopia, Eritrea, Iraq, Somalia, and Central African Republic, using singing to teach English, write songs, and empower young women to reach their full potential.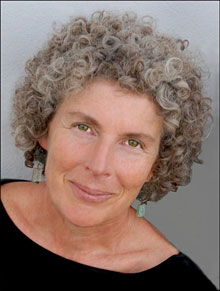 ELISE WITT
SINGER • COMPOSER • EDUCATOR
RECORDING ARTIST • COMMUNITY ACTIVIST
---
Elise was born in Switzerland, raised in North Carolina, and since 1977 has made her home in Atlanta. She speaks fluent Italian, French, German, Spanish, and English and sings in over a dozen languages. Her passion for music and languages has led her to take her Global, Local & Homemade Songs™ across the United States and around the globe.
Among her ancestors, Elise claims "Wedding March" composer Felix Mendelssohn and his grandfather, Jewish philosopher Moses Mendelssohn; Protestant cow farmers from northern Germany; Russian chemists; Polish intellectuals; French Bordeaux wine growers; a British painter; and a great great aunt from Cuba. [one_half][/one_half] [one_half_last]
Elise is a state treasure.

We are proud to be able to support her and her work.

-Jan Selman, Chairperson, Georgia Council for the Arts
[/one_half_last]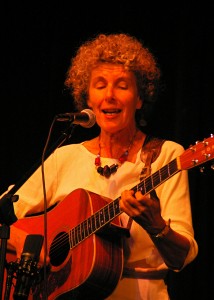 Elise has served as a cultural ambassador to South Africa, Nicaragua, China, Italy, and Yugoslavia.
For the Kennedy Center's 25th Anniversary Celebration, Elise represented the State of Georgia, and she has crisscrossed the United States with her Global, Local & Homemade Songs™ – from New York's Carnegie Hall, Lincoln Center and the People's Voice Café to festivals like Clearwater's Hudson River Revival, Falcon Ridge, LEAF, the North Georgia Folk Festival, and the Marin County Fair in California; from Minneapolis' Gingko Coffeehouse to Nashville's Bluebird Cafe; and from the Open Door Community to the Martin Luther King Jr. Center for Non-Violent Social Change.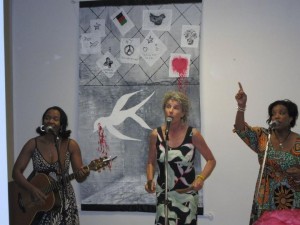 Elise's original songs are wildly eclectic. The Raleigh Times says, "Her performance is like a suitcase plastered with stickers from around the world… populated with interesting characters both heroic and comic." VALISE is Elise's 11th recording on the EMWorld label. Her songs have been used in several documentary films, and include the anthem Open the Window (inspired by a Georgia Sea Islands Spiritual), Why Are Our Eyes in the Front of Our Heads? (acapella jazz vocal ); Clothes Swap (a funky ode to the virtues of re-cycling and girl gatherings); Set Us Free (inspired by the words of Reverend Timothy MacDonald at Martin Luther King Jr.'s 80th birthday celebration at the National Historic Site in Atlanta), Venus Between Us (a tribute to Soul Music), Ma Roulotte (a french gypsy jazz waltz, co-written with partner Mick Kinney), Butterfly's Mysteries (a scientific boogie, written at the Callaway Gardens Butterfly House), Verkehrte Welt (Crazy Mixed Up World, a German paradox poem à la Oh Suzanna), and Blessed Nation (original music by Elise Witt to a poem by Pete Seeger).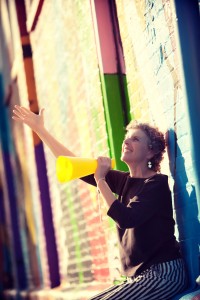 The Elise Witt Choral Series
makes Elise's songs available for choirs, choruses, and vocal ensembles. With arrangements by
Michael Holmes
, there are currently 20 songs arranged for SATB, SSAA, and TTBB groups. Elise has collaborated with choirs, choruses, and vocal ensembles as composer, conductor, and clinician. Her choral arrangements have been performed by
Echoes of Peace Choir
in Duluth MN,
WomanSong
in Asheville NC,
Clear Rivers Chorus
in Carrolton GA,
Resonance
Women's Chorus of Boulder CO, Winston Knoll College in Saskatchewan Canada, Charm City Labor Chorus in Baltimore, and many other choruses, schools, and churches around the country.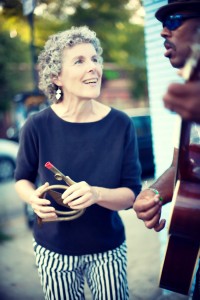 Global Repertoire: In addition to her own songs, Elise introduces audiences to Argentine songwriter Maria Elena Walsh's moving Como La Cigarra (Like the Cicada) about the power of singing for survival; Ich Hab' Noch Einen Koffer in Berlin (I Still Have a Suitcase in Berlin) made famous by Marlene Dietrich – Elise's father, famed pharmacologist/spider scientist, is a Berliner; Gino Sansonne's La Bambina ed il Gabbiano (The Girl and the Gull) from Italy's Lago Maggiore; as well as new and traditional songs from the Southern USA.
A really delightful concert from the honey voiced Atlanta songwriter who sings the world.

-Lincoln Center Out of Doors Festival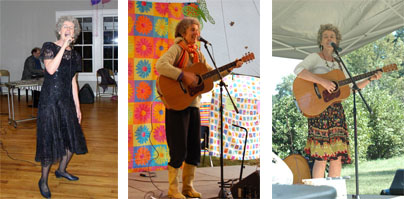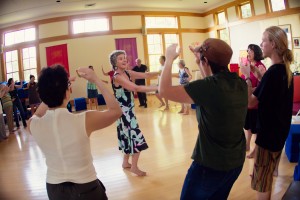 In addition to performing and recording, Elise has created a reputation as a masterful singing teacher, encouraging even the shyest singers to revel in their voices and join with others to create joyful choruses. Her "Singing For Fun" classes in Atlanta have become legendary, and her "Impromptu Glorious Chorus™"workshops around the country and abroad draw and inspire everyone from professional singers to "singers for fun," to self-professed "non-singers." Elise has taught at festivals, arts camps, schools, and community gatherings around the U.S. like the Songwriters Soul Kitchen, Augusta Heritage Center in Elkins WV, The Swannanoa Gathering in Asheville NC (where she coordinated the Sing & Swing program for 8 years), Common Ground in Westminster MD, Virginia Tech University in Blackburg VA, The School for International Training in Brattleboro VT, Big Apple Circus Clown Care, Savannah Folk Music Society in Savannah GA- and internationally – University of Biel Switzerland, Casa per la Pace in San Gimignano Italy, Centro de Cultur Popular in Matagalpa Nicaragua, and aboard the Universe Explorer educational ship sailing around the Americas and through the Panama Canal.
Elise's workshops include: * An Impromptu Glorious Chorus™ * Vocal Improvisation * Harmony: A World View * Singing for Fun for Everyone
Elise knows more exotic songs than anybody in the world. She respects other people deeply. She loves life and sees making music as an essential element of daily life. If you think you have a small voice, or worse, that you are tone deaf, or any of those bad things we learned as kids, Elise will start the process of shaking it out of you. Her classes, although about learning to sing as only she teaches, are really lessons in life. Her classes are that special.

– Del Hamilton, director Seven Stages Theater, Atlanta GA
As a Teaching Artist in Schools, Elise works with students in elementary schools, middle, and high schools as well as colleges and universities. She currently serves as Artist-in-Residence in Decatur GA at the Global Village Project, a school for refugee teenage girls from Afghanistan, Burma, Congo, Ethiopia, Iran, Iraq, Sudan, and Somalia. Writing songs about everything from Prefixes & Suffixes, Secrets of Fractions, the Planets, and Contemporary Leaders, Elise and her students have made the learning of difficult subjects fun with their original songs. Her education workshops and concerts use music as a language to celebrate our cultural diversity while appreciating our connections as one human family.
Elise is also a highly respected and sought after teacher of teachers, leading professional development workshops in a myriad of settings. A high school teacher in Thomaston Georgia says, "I was totally impressed and awed with her fantastic voice and ability to inspire the students." A student in Augusta Maine says, "She would receive straight A's from me!!" And Allied Arts in Milledgeville GA calls Elise "every arts residency director's dream."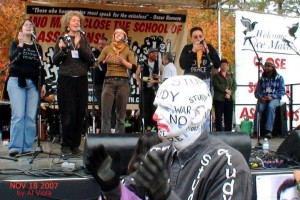 Brought up as the daughter of survivors of Nazi Germany, Elise uses her music to promote causes of peace, justice, and human dignity in her community of Atlanta, and around the globe. She is a member of Alternate ROOTS, a coalition of artists based in the Southeastern United States, whose work is at the intersection of arts and activism. She is also part of the national SOAW Musicians Collective, and has sung for Refugee Family Services, American Friends Service Committee, WAND, the Martin Luther King Jr. Center for Non-violent Social Change, and many other groups nationwide raising their voices for a lasting peace with justice for all.
Aside from quirky song titles and international flair, the real reason to hear Elise Witt is her charismatic stage presence and her gorgeous voice. The Louisville KY Courier says, "Her straightforward charm and pure, strong voice are truly fine music to the ears." All of Elise's songs come straight from the heart. Her voice has the power to carry you to distant lands as well as inner landscapes. And by the end of a concert, it is not unusual to have the entire audience (self-professed "non-singers" included) singing in fabulous multi-part harmony!

"So many people in this western culture have had someone at some point tell them they are 'unmusical,' 'tone deaf,' or some other deflating and demoralizing criticism. That is the reason I teach – because I just don't believe that there is anyone who can't or shouldn't sing. We are all born singing, and in cultures before this busy, hectic, modern one, singing was the main way we had of communicating with each other and remembering our stories. We sang babies into the world. We sang to honor marriages, the harvest, and community celebrations. We sang our grief, and we sang to accompany someone to the next life. Now we have had our music taken from us and sold back to us. We have become consumers of music, rather than creators and participants. But we love to sing and we need to sing – as individuals and as community! Singing vibrates our bodies and changes our molecules. It brings healing and joy."
~ Elise Witt
La leggenda racconta che Elise Witt cantasse ancor prima di parlare e che da allora non abbia mai smesso di farlo. I suoi concerti "Global, Local & Homemade Songs" (Canzoni Globali, Locali e Fatte a mano) ed il suo laboratorio "Uno Spontaneo e Favoloso Coro" creano e mettono in contatto comunità di cantanti in tutto il mondo.
Nata in Svizzera e cresciuta in North Carolina, vive ad Atlanta (USA) dal 1977. Elise parla fluentemente cinque lingue e canta in almeno altre dodici. Le sue turnee mondiali l' hanno portata in Sud Africa, Cina, Nicaragua, Svizzera e spesso in Italia.
Dal 1980 al 2000 ha cantato nel Coro dell'Orchestra Sinfonica d'Atlanta e più recentemente ha studiato con maestri d'improvvisazione come Bobby McFerrin e Rhiannon, e maestri di musica Africana come Fred Onovwerosuoke e Ysaye Maria Barnwell (Sweet Honey in the Rock).
Nei suoi laboratori e concerti Elise usa la musica come linguaggio universale per celebrare le diversità culturali e per affermare il concetto che apparteniamo tutti ad una sola famiglia, la famiglia del mondo.
Non perdete la grande opportunità di far parte di "Uno Spontaneo e Favoloso Coro" con Elise!