Pine Lake Woman Taps Into Our Talents
Performer says 'we're all born with a voice,' encourages us to sing
By H.M. Cauley for the AJC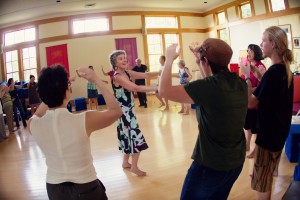 Friends may have told you to save your singing for the shower, but that's only because you haven't met Elise Witt. The Pine Lake resident is a veteran singer, songwriter and performer who pooh-poohs the notion of no vocal ability and can coax a song out of anybody.
"Eighty percent of our population has been told that they're tone deaf, not musical or just shouldn't sing, and I find that really disturbing and sad," said Witt. "We're all born with a voice. It just may not be Aretha Franklin's or Luciano Pavarotti's."
For more than 30 years, Witt has conducted singing sessions that tap into the hidden talents of folks who just want to unleash their inner American Idol – but don't want to do it alone. Her classes focus on the power of combined voices.
"In the same workshop, we might have someone who's a professional singer, someone who thinks they can't sing and someone who sings for fun. And they all sing together, creating something none of them could do alone." said Witt. "Individuals do learn a lot about their own voices, and in addition they learn about singing in a group. It's the old adage, 'the whole is much greater than the sum of the parts.'"
Witt, who was born in Switzerland and speaks five languages fluently, never set out to be a voice teacher. When she arrived in Georgia in 1977, as a founding member of Theatrical Outfit, one of her jobs was to teach the other members about singing.
"It reminded us that before we had radio and TV, the way we communicated was with songs and stories," said Witt. "In our Western culture, we've lost that connection, and my classes and workshops are all about finding that again."
When Witt moved on from the theater, she kept singing. For 20 years, she was part of the Atlanta Symphony Orchestra Chorus and Chamber Chorus under its famous director Robert Shaw, and she studied with noted improvisational singers Rhiannon and Bobby McFerrin, as well as masters of African and African American vocal music Dr. Ysaye Barnwell (of Sweet Honey in the Rock) and Dr. Fred Onovwerosuoke (founder of the African Music Arts).
Witt has also shared her expertise and enthusiasm in ongoing classes at the Rising Phoenix T'ai Chi Studio in the Little Five Points Community Center in Atlanta, as well as around the country when she tours her Global, Local & Homemade Songs™. Last year, she launched the Impromptu Glorious Chorus™ at Decatur's Shambhala Center. For two hours, anywhere from 30 to 45 people gather to learn a "wild variety" of songs with harmony, improvisation, and a little vocal technique tossed in for good measure.
"We all sit in the same circle and make beautiful music together," she said. "I find it so powerful. Singing can heal us, move us, inspire us. That's the magic when you sing together."
For more information about Witt's singing classes, workshops, and concerts go to her website www.EliseWitt.com
The Atlanta Journal-Constitution
Wednesday, Sept. 14, 2011
Metro Section
Real people, inspiring stories