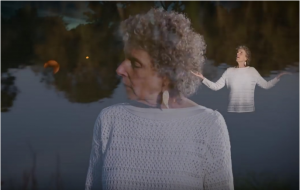 In 1993 I had the privilege and delight of accompanying David Darling to one of his performances at an elementary school in Connecticut. Along with the children, I was entranced as David hooked a tuning peg of his beloved cello to his neck and walked among us, playing songs of whales and wind, and spinning tales of the magic and mystery of music.
At one point, he drew the bow slowly over the strings and let the sound ring through the room. The beautiful sound of the cello got softer and softer until we couldn't hear it anymore.
"Do you hear that?" David asked the hushed audience. "That wave of sound is still in the air," he continued. "It just went out the door of this room, and out the door of your school. It is winding its way through the trees and the air and finding your house. It is slipping in your window and crawling into your bed. Tonight when you go to sleep you will find it under your pillow, still singing."
The image of that sound wave has stuck with me all these years. The idea that sound goes on forever, and that any sound we make is in the universe forever, is something to deeply consider in these controversial times.
I was born in Switzerland and came to the US at age 4. I was sent to a nursery school where all the children were communicating with each other in strange sounds that I had never heard. They seemed to understand each other and I could tell from their body language and vocal timbres that they were telling stories, making each other laugh, and getting ideas across. I did what many children do, when thrown into foreign settings – I did not speak at all in school for 6 months. After 6 months, I just started talking English. That discovery of languages – how each language has its own musicality, and its own expressions that just can't be translated – instilled in me a fascination for sound and language, and made me want to learn all the languages in the world! These two memories, focusing on my love of sound and language, made their way into a song called "Earbone," on my new CD "We're All BORN SINGING." The verses of the song, sung over improvised vocal loops are interspersed with sonic glimpses of late night short wave radio – snippets of songs and voices from around the world – an Italian guitar, a Cajun accordion, my students from the Global Village Project singing in Swahili, and multi-lingual voices saying how much they love to sing in Lingala, Burmese, Chin, Kirundi, French…
When I perform the song live, in the spirit of Music for People, it is performed over improvised voices. At a recent concert with Terry Garthwaite and Becky Reardon, they created new vocal loops for each verse, as I journeyed through the song. At the Cucalorus Film Festival in Wilmington NC, where I served as emcee, I was performing solo, so I created looping vocal parts for the audience and sang the verses over them, morphing the loops for each new verse.
EARBONE
By Elise Witt
© Non Si Sa Mai ASCAP * Recorded on "We're All BORN SINGING" © EMWorld Records
* Earbone official music video

* Earbone live performance

The first bone in the body, the first human bone
The first bone to develop is the Earbone
Babies have all the sounds of the universe
We are born vibrating every sound on earth
Sound goes on forever
To learn the language you will speak
You eliminate the sounds you won't need
What about those sounds no longer in play?
Are they stored somewhere deep or just thrown away?
Sound goes on forever
I like to think of my songs' journeys
Flying to places I may never see
Finding your window, slipping on through
Tickling your earlobes, curling up in bed with you
Sound goes on forever
If I forget to think, will I remember it all?
Maybe all sounds are at my beck and call
Once you make a sound, you can never take it back
It's floating in the universe among the zodiac
Sound goes on forever
Improvising with Music for People, and for the past 10 years with master teacher and improviser Rhiannon, has helped me to bring together my world of song with the world of improvisation. Now I appreciate every song as a springboard for new creation, and every language as a playground for sound exploration.
My friend Masankho Banda told me that in Malawi, to greet each other, they say, "I see you with my eyes, I see you with my heart." At the Global Village Project, I use singing and improvisation to teach English to teenage refugee girls from Afghanistan, Burma, Congo, Ethiopia, Eritrea, Iraq, Nepal, Somalia, and Central African Republic. Inspired by Masankho's Malawian greeting, we created a multi-lingual musical collage of Welcomes from each of our cultures. Over the polyrhythmic grooves, I have loved improvising a welcome to audiences and workshop participants, often circling back around to David's original inspiration of the sound wave spiraling out into the world, searching out people and communities that can use some healing and love. Sound goes on forever.
I SEE YOU WITH MY HEART
By Elise Witt
© Non Si Sa Mai ASCAP
Recorded on "We're All BORN SINGING" © EMWorld Records
* Concert performance with Brien Engel (mbira) and
students from the Global Village Project

I see you with my eyes, I see you with my heart
Welcome, welcome!
Gaw-lah-gay (Karen, Burma)
Ming-a-la-ba (Burmese, Burma)
Sti-reh-mah-sheh (Pashto, Afghanistan)
A-ma-ho-ro (Kirundi, Burundi)
Hak-kahm (Oromo, Ethiopia)
Na-sa-ding-aa (Matu Chin, Burma)
Namaste (Hindi, India)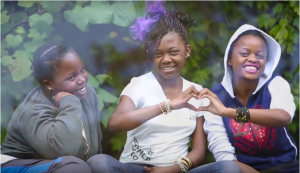 Elise Witt
www.EliseWitt.com
Elise Witt's concerts of Global, Local & Homemade Songs™ and her Impromptu
Glorious Chorus™ workshops create and connect singing communities around
the globe. Recipient of the William L. Womack Creative Arts Award, Elise currently
serves as Director of Music Programs at the Global Village Project, a school for
teenage refugee girls in Decatur GA, where she uses singing to help students learn
English and everything else needed to get along in this life!
Read the original article with CoNNeCTioNS online here: http://musicforpeople.org/wp/wp-content/uploads/2016/05/Spring-2016-Connections.pdf
[gview file="https://elisewitt.com/web/wp-content/uploads/2016/09/EWSpring-2016-Connections.pdf" save="0″]