with
Elise Witt

@ Drew Charter High School

---
Elise's Workshop Notes and Materials
1) Circle Song
Circle Song
From the work of Bobby McFerrin and his vocal orchestra – Voicestra http://www.bobbymcferrin.com
and Rhiannon http://www.RhiannonMusic.com
Circle Song
One person gives out repeating parts to the groups.
Find parts by first singing what's inside, then refining to find a motor part. Harmony is good. Look for spaces in the motor part to interlock new parts.
Find parts by first solo-ing over what is already created.
Play with rhythm – try putting 3 over 4 or try something in an odd rhythm like 5/4, 7/8, 9/8
Play with tonality – use some unusual harmonies, try notes that may not be the "first choices"
Play with language – try using some sounds you don't always use; experiment with different consonants; imagine you're speaking a language you don't know but have a sound in your ear eg. french, russian, italian, etc.
The person giving out the parts can then solo over the foundation they have created.
Solo-ist can then step out and let another person solo and/or create new parts…
2) Voicestra
Voicestra
From the work of Bobby McFerrin and his vocal orchestra –
Voicestra http://www.bobbymcferrin.com
and Rhiannon http://www.RhiannonMusic.com


VOICESTRA
Standing (done in septets, or octets, or quintets…)
Person 1 starts a short phrase that has rhythm and can be easily repeated – The Motor.
Person 2 copies their phrase, trying to exactly match the texture, rhythm, tone, pitch, expression, body language. Then Person 2 makes up a harmony to Person 1's part, keeping the same exact rhythm but adding different notes that are "pleasing to the ear."
Person 3 copies Person 2's phrase, trying to exactly match the texture, rhythm, tone, pitch, expression, body language.
Then Person 3 makes up a new part that can be a harmony or a new interlocking part, trying to fill in spaces that are left in the already existing parts.
Person 4 copies Person 3 (or 2 or 1) to get a feel of the group's groove. Then Person 4 makes up a new part, that can either be a harmony or new interlocking part.
Person 5 and 6 same as 4.
Person 7 steps in front of the group, listens carefully  and delightedly to their groovy foundation, and improvises on top, inspired by their bed of sound, taking off on voyages as yet unknown. Person 7 can conduct the group, encouraging them to crescendo (get louder), decrescendo (get softer), and when ready, Person 7 ends the improv, which can be done either with a gradual fade, or an abrupt cutoff (or anything else that s/he can communicate to the group.
3) Ashes and Smoke
Ashes And Smoke
by Linda Allen
ASHES AND SMOKE
We have been burned, burned by the fire
And we are ashes, ashes and smoke
And we will rise higher and higher
On the wings of compassion,
justice, and hope
Ashes-and-Smoke

4) My Salsa Garden
My Salsa Garden
by Elise Witt
w/Sonia Osio, Kate Long, Joanne Hammil,
Sue Ribaudo, Ann Kilkelly, Carol Burch Brown, Inge Witt
© Non Si Sa Mai Music ASCAP
MY SALSA GARDEN
Do you have a recipe for my Salsa Garden?
Cilantro, lime, cumin, coriander
Onion, garlic for my Salsa Garden!
Really red, really ripe, really red, really ripe
Real tomatoes juicy juicy for my Salsa Garden!
Hot jalapeños, ayyyyy! For my Salsa Garden!
Dance with me in my garden, dance with me
Dance with me in my garden, dance with me
Ay que rico bailar contigo
Ay que rico bailar mi amor
Ay que rico bailar mi cielo
Dale sabor
Sabrosura, sabrosura
Picantico de mi amor
Cuando tú bailas conmigo
Se me hace agüita el corazón
My Salsa Garden 2018 July 9

5) Open the Window
Open The Window
arranged by Elise Witt
from a Georgia Sea Islands Spiritual
© Non Si Sa Mai Music ASCAP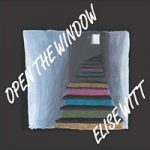 Recorded on the CD

"Open the Window"
and available as a Choral Arrangement:
SATB, SSAA, TTBB
OPEN THE WINDOW
Open the window, children
Open the window now
Open the window, children
Open the window,
Let the dove fly in
Mama and Papa are fighting
like snakes
Baby is crying
like her heart will break
Neighbors lock their doors
build fences so high
Don't see what's to discover
on the other side
Borders 'round countries,
borders' round the skies
The only border close you in
is the border 'round your mind
Some people have money,
some people have none
What's the use of money
if your heart's gone numb
This big old world
is in a great big mess
Let's open the window,
find peace and rest
6) I See You With My Heart
I See You With My Heart
I See You With My Heart
I see you with my eyes, I see you with my heart
Welcome! Welcome!
(G)aw-le-gay *KAREN (Burma)
Ming-a-la-ba *BURMESE (Burma)
Sti-reh-mah-sheh *PASHTO (Afghanistan)
A-ma-ho-ro *KIRUNDI (Burundi)
Hak-kahm *OROMO (Ethiopia)
Na-sa-ding-aa *MATU CHIN (Burma)
Namaste *HINDI (India)
I See You With My Heart PARTS