SING for HAITI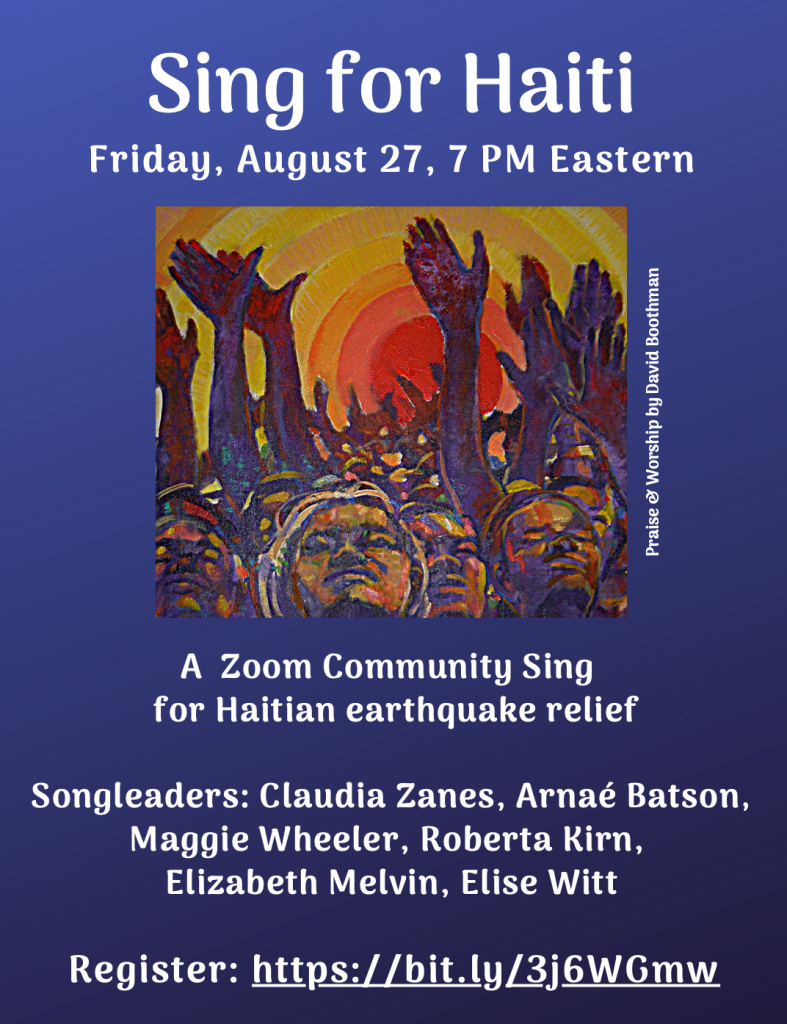 Fri. Aug. 27, 7:00 p.m. (Eastern)
A Community Sing to raise funds for Haitian earthquake victims 
~ SONG LEADERS ~
Elizabeth Melvin ~ Roberta Kirn ~ Maggie Wheeler, Claudia Zanes ~ Elise Witt ~ Arnaé Batson

Elizabeth Melvin (who leads the Freedom Choir in Annapolis MD and wrote "Make Good Trouble") spent many years traveling to the Caribbean, studying all kinds of music and rhythm there as an undergrad and graduate student in folklore and ethnomusicology. Although she never visited Haiti, she feels a strong connection to the music, culture, and religion because of its deep interconnection with Cuba and Brazil – coming out of the traditional religious practice brought over by enslaved peoples from West Africa.

David Boothman from Trinidad, Elizabeth's musical and life partner for 17 years, and she put together a fundraiser for Haitian earthquake victims back in 2010 called Happy Hour for Haiti. They performed with their Caribbean Jazz quartet. Since Elizabeth's life is all about community singing now, this Sing for Haiti was the outgrowth from that original seed of inspiration 10 years ago.

Elizabeth called on Roberta Kirn to put this event together with her – Roberta has traveled to Haiti on numerous occasions and knows many Creole songs. She has invited a drummer friend Rick Bausman to share info about his grassroots organization in the south of Haiti which has pivoted from cultural work to urgent earthquake relief work. He'll be on the Zoom call as well and has some incredible video to share!
~ All proceeds going to Haitian relief organizations ~
Hope for Haiti, Partners in Health and Rhythm of Life