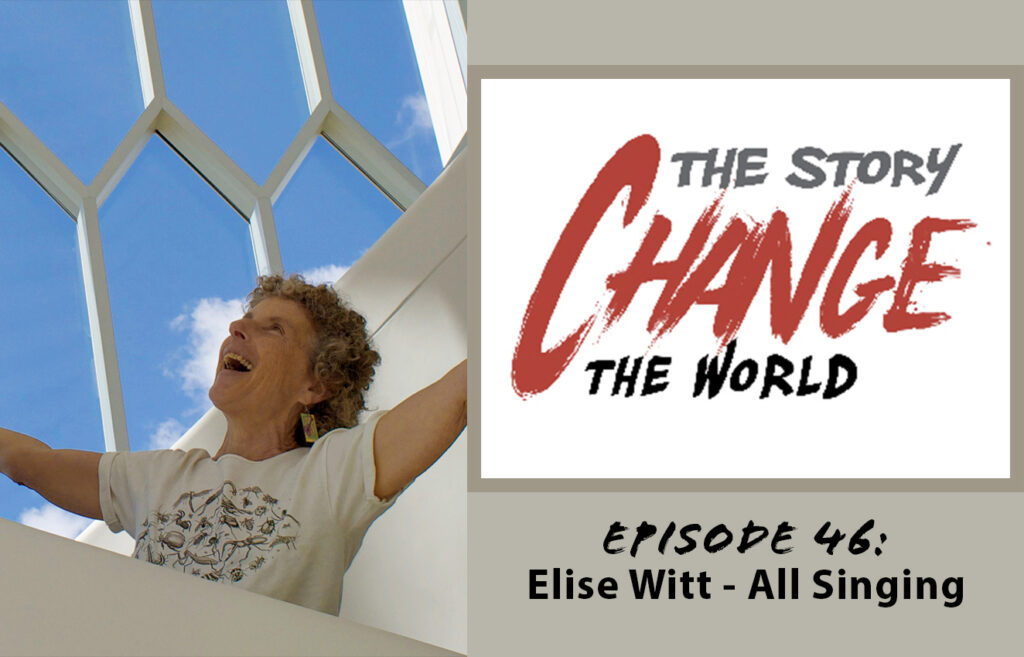 Our stories help shape and sustain our beliefs and actions. Meeting the challenges of the 21st century will require a revolution of thought and deed— in essence, a new set of stories powerful enough to change beliefs and behaviors.
"Change the Story/ Change the World" is a chronicle of art and community transformation across the globe hosted by Musician, Educator, Activist Bill Cleveland. In each episode, Bill introduces listeners to creative change agents working to re-imagine and recreate the social, political, and cultural narratives that define their communities.
Episode 46 is a conversation I had with Bill several months ago. Listen here:
Notable Mentions
Elise Witt: Global, Local and Homemade Songs
ALL SINGING: The Elise Witt Songbook is a collection of 58 original songs for solo and community singing. It includes lyrics and chords, as well as music notation, plus photos, graphics, and lots of stories
Daily Antidote of Song: Is an internet broadcast program that presents song leaders from around the world sharing songs with the intention of "Making each day better, one song at a time!"
Ralph Rinzler Folklife Archives and Collections at The Center for Folklife and Cultural Heritage is home to the Ralph Rinzler Folklife Archives and Collections, a public resource named for the founding director of the Smithsonian Folklife Festival.
Folk Alliance International: FAI is an arts nonprofit founding in 1989 to connect folk music leaders aiming to sustain the community and genre worldwide.
Jenny Jenkins: In the United States, Jennie Jenkins was sung as a way for a boy to ask a girl to dance. The boy would sing the first part and pick a color and the girl would have to make up an answer that rhymed. If the girl failed to quickly respond with an appropriate answer, she would be required to dance with the boy.
John Robert Lewis (February 21, 1940 – July 17, 2020) was an American politician and civil rights activist who served in the United States House of Representatives for Georgia's 5th congressional district from 1987 until his death in 2020. He was the chairman of the Student Nonviolent Coordinating Committee (SNCC) from 1963 to 1966. Lewis was one of the "Big Six" leaders of groups who organized the 1963 March on Washington.
Alternate Roots: Alternate ROOTS supports the creation and presentation of original art that is rooted in community, place, tradition or spirit. We are a group of artists and cultural organizers based in the South creating a better world together. As Alternate ROOTS, we call for social and economic justice and are working to dismantle all forms of oppression – everywhere.
Hambidge Center for Creative Arts and Sciences: The Hambidge Center provides a residency program that empowers talented individuals to explore, develop, and express their creative voices. Situated on 600 acres in the mountains of north Georgia, Hambidge is a sanctuary of time and space that inspires individuals working in a broad range of disciplines to create works of the highest caliber.
The Small Family Orchestra; Elise "back in the day" with her sister Mary, her brother-in-law Rick Ruggles, her bro-in-law's best friend from childhood Steve Harris, and her sister's husband's friend's neighbor Beth Heidelberg. SFO featured intricate 5-part vocal harmonies accompanied by an intriguing and inventive combination of instruments – French Horn, cello, mandola, saxophone, fiddle, clarinet, bass clarinet, and guitar.
Sandinista Revolution: The Nicaraguan Revolution (Spanish: Revolución Nicaragüense or Revolución Popular Sandinista) encompassed the rising opposition to the Somoza dictatorship in the 1960s and 1970s, the campaign led by the Sandinista National Liberation Front (FSLN) to oust the dictatorship in 1978–79, the subsequent efforts of the FSLN to govern Nicaragua from 1979 to 1990,[24] and the Contra War, which was waged between the FSLN-led government of Nicaragua and the United States–backed Contras from 1981 to 1990.
Ngapartji Ngapartji: Ngapartji Ngapartji was a community development and Indigenous language maintenance/revitalisation project produced by the Australian arts and social change company Big hART conducted in various locations across the Anangu, Pitjantjatjara and Yankunytjatjara (APY) Lands in Central Australia and in Alice Springs.[1]
Global Village Project: The seeds of Global Village Project were planted in 2007 by a group of volunteers who came together to support and tutor five teenaged Afghani girls in Clarkston, Georgia. By 2009, they'd founded Global Village Project, the only school in the country dedicated to meeting the educational needs of refugee young women and preparing them for high school.
Sweet Honey in the Rock is an internationally renowned Grammy Award® nominated female a cappella vocal quartet has a history of over four decades of distinguished service. They have created positive, loving, and socially conscious message music that matters as it pertains to spiritual fortification, and consistently taken an activist stance toward making this planet a better place for all in which to live.
Ysaye Maria Barnwell: Dr. Barnwell joined Sweet Honey In The Rock® in 1979 and her training as a Sing Language Interpreter, led her to facilitated the group's tradition of including a Sign Language Interpreter in the ensemble. After 34 years Barnwell retired from Sweet Honey In The Rock to pursue her other interests.
Dr. Barnwell appears as a vocalist and/or instrumentalist on more than thirty recordings with Sweet Honey In The Rock as well as other artists. She has, for the past thirty years spent much of her time off stage working as a master teacher and choral clinician in African American cultural performance. Her workshop "Building a Vocal Community®: Singing in the African American Tradition" has during the past twenty-eight years, been conducted on three continents, making her work in the field a significant source of inspiration for both singers and non-singers, a model of pedagogy for educators, and cultural activists and historians.
Ella's Song: In 1981, Bernice Johnson Reagon, founder of the all-women's a capella group Sweet Honey in the Rock and a civil rights leader and activist in her own right, wrote "Ella's Song" as part of the musical score she composed for the film Fundi: The Story of Ella Baker.
Kathy deNobriga: A founding member of Alternate ROOTS, a service organization for community-based artists in the South, deNobriga served as ROOTS' executive director and planning/development director for ten years. A current board member of Alternate ROOTS, deNobriga is a certified mediator in the State of Georgia, and after three terms as Council member deNobriga now serves as Mayor for the City of Pine Lake.
Rev. Timothy McDonald, III is founder of the African American Ministers Leadership Council and President of the African American Ministers In Action of People for the American Way, and is Senior Pastor of the First Iconium Baptist Church in Atlanta, Georgia, where he has served since 1984. Rev. McDonald has taken First Iconium from 35 members to approximately 1500 members. He served three terms as President of Concerned Black Clergy of Atlanta, an ecumenical consortium of Black and White clergy and laypersons working on behalf of the poor.
The King Center (Martin Luther King Center for Nonviolent Social Change): Established in 1968 by Mrs. Coretta Scott King, The Martin Luther King, Jr. Center for Nonviolent Social Change ("The King Center") has been a global destination, resource center and community institution for over a quarter century.The King Center is a 501(c)3. Nearly a million people each year make pilgrimage to the National Historic Site to learn, be inspired and pay their respects to Dr. King's legacy.
Open Door Community: The Reverend Murphy Davis, who founded the Open Door Community with her husband Ed Loring, inspired a new kind of protest against Atlanta's neglect of the poor.