Chiang-Su State Chorus & the Beijing Central Conservatory Chorus
"ODE TO PEACE"   From December 9-19, 2007, I was invited as a guest to fly to China, to sing with the Chiang-Su State Chorus from Nanjing, and the Beijing Central Conservatory Chorus, along with the Jiangsu Province Symphony Orchestra, with guests from Hong Kong, Taiwan, Singapore, Korea, and Russia, under the direction of reknowned Chinese conductor Mu-Hai Tang (former assistant conductor of the Berlin Philharmonic, under Maestro Karajan).   "Let the white bones sleep" The occasion was to commemorate the 70th anniversary of the Nanjing Massacre, to bring peace to the 300,000+ spirits whose mortal lives ended in those horrific 6 weeks in 1937. "Ode to Peace" is a new Symphonic/Choral Work by Chinese composer Ye Xiagong, and will be part of a new film about conductor Tang.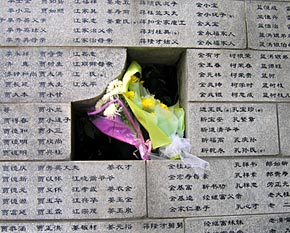 "Let the names of the dead be carved on history's record" The concerts coincided with the opening of the hugely powerful Nanking Holocaust Museum, which is built on the site of the mass graves. There is also a film (released Dec. 12, 2007) "Nanking," directed by Bill Guttentag and Dan Sturman, which was highly lauded at the Sundance Festival.
"Let peace be today" I was part of a group of 12 singers from the USA (Detroit, NYC, DC, St. Louis, and Atlanta) who, with some expert coaching, joined the over 100 Chinese singers, performing in Mandarin Chinese! Our American group included director/composer Michael Holmes, a Sibelious scholar, with whom I am collaborating on choral arrangements of some of my songs; Thomas Young (member of "Tenors Cook Dixon & Young" and one of the originating members of 3 Mo Tenors); Alvin Wattles (Music Director for the "Tenors Cook Dixon & Young, who also has a Fats Waller review!); Wing Chan, tour organizer and conductor of the DC Youth Orchestra; E. Chiang Lee, who (to my delight!) is also a Tai Chi teacher; Kathy Lawton Brown, a former Singing Sargent (!), and several other really great singers. I have my friend Janne Harrelson to thank for the amazing opportunity of this trip. She and I sang together in the Carolina Choir (UNC-Chapel Hill) in the early 1970s and travelled with that choir to Austria and Yugoslavia.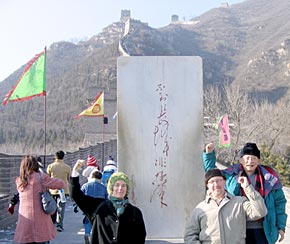 "Let peace lead the future" After the concerts, we were treated to tours of Nanjing – Sun Yet-Sen's Mausoleum and the Confucian Temple; and Beijing – climbing the Great Wall; learning about jade, pearls, tea, and silk; and visiting Tienemen Square, the Empress' Summer Palace, the Ming Tombs, and the 2008 Olympic site. I also had a marvelous adventure by myself at the crack of dawn on our last day, going to the Temple of Heaven Park to witness the Chinese population out in full force, all ages, all abilities, playing badminton, ping pong, hackey sack (with feathers on recycled rubber rings), qigong, tai chi and line dancing (with Chinese disco music!). The tai chi players were doing my exact form as I arrived, so I was able to dance along with them!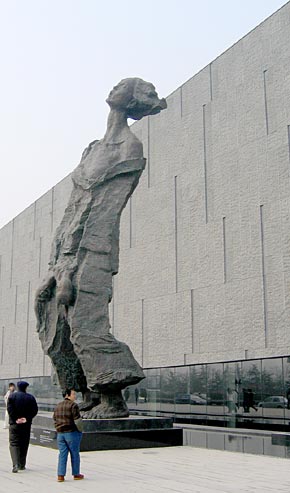 "Let the miliitary knife be molten and cast into a warning bell" This trip to Nanjing, and especially to the Holocaust Museum, was a brutal reminder of the atrocities of war. As I stepped into a room whose glass walls showed the piles of white bones still buried in the earth, my tears flowed, thinking of my parents who lived through the horrors of the holocaust in Germany. A sign reading "Solemn Silence" meets you as you enter one building, half buried, like a colossal tomb. Outdoors, in an area of 28,000 square meters, over 20 enormous sculptures by Chinese artists remembering the tragedy loom enormous. There is a wall reminiscent of the Viet Nam Memorial with the names of the 300,000 people killed in just 6 weeks by invaders crazed by violence and mass hysteria.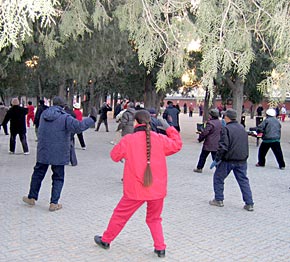 "Let harmony live eternal among peoples of the world" This trip was a small but mighty example of the power of art, especially music, as a force for harmony and peace with justice. May this new year bring a miraculous end to war. May this year find all the children, women, and men of the world with enough food to eat, a home to call their own, extraordinary education, and access to affordable and loving healthcare. May this year bring more music, more art, more love, more light, and more harmony into all our lives, and may we continue to share these all with everyone we encounter.