Celebrating Kaspar "Stranger" Malone 1909 – 2005
View "Who's That Stranger," a film by George King about Kaspar "Stranger" Malone – http://www.georgeking-assoc.com/whos-that-stranger/
His life is like a musical history of America. He played swing with the Jack Teagarden All Stars and old time with Clayton McMichen, Riley Puckett, Lowe Stokes & the Melody Men. He played in silent film orchestras and radio bands, and he was on some of the first recordings ever made by Columbia Records. He also played orchestral bass, and was first chair of the Tucson Symphony for over ten years.
But Stranger Malone was more than a musician. He was a self educated, worldly, open minded, kind, hard working ethical, and deeply spiritual human. He was a voracious reader. He loved to travel and meet new people. Even at 95, if you mentioned any song title, he could tell you, not only the year it came out, but the month, the composer, the performers, and some interesting anecdote about the song. He was gregarious and generous to everyone he met. Yet he was also a very private person. And every morning when he arose, he said to himself, "I am no better than anyone I will meet today, and everyone I meet today is no better than I."
Kasper Malone was born in 1909 on a farm near Paducah Kentucky. His given name was Kanoy, but he wasn't too pleased with that, so he changed it to Kasper. As he puts it, "I was born before birth certificates, so I just named myself."
When he was fifteen, he sold his personal effects and left home. He was picked up by two boys headed to Miami, but found Miami too expensive so he headed back north. His ride stopped for gas in Armuchee Georgia and there just happened to be a band tuning up. Kasper said, "I'll get off here." Someone in the band saw him and asked, "Who's that little Stranger (he was about 5 feet tall) with the big horn?" He joined the band and became "Stranger" ever after.
He spent three years with that band, and in that time picked up the clarinet, and began playing for silent film orchestras. During this period, Kas hooked up with Clayton McMitchen and Riley Puckett and together they formed the Melody Men. Until 1928 they made two recordings a year with equipment sent down from New York City. Columbia Records set up a studio in Atlanta at 15 Pryor Street. They also played at the radio station WSB housed in the old Biltmore Hotel. With Gid Tanner they recorded the record "A Day at the County Fair."
In 1929 on New Year's Day, he placed an ad in Billboard Magazine for a clarinet player. A response came from Schnitz Seymour's Miniature Circus, in St. Louis Missouri. Kas got the job, and became part of the entourage that played at show theaters throughout the Midwest.
Kas was in the house band for many radio stations, and earned enough money to pay $35 for a Model T, an open roadster with no top. On a windy day he got in the roadster and drove to South Dakota arriving at 4:00 p.m. at the local radio station. Happy Jack, the old time fiddler, was on the air and Kas just happened to have his double bass in the car. "You're on the payroll," he was told by Harvey Nelson the personnel manager. He became a "doubler," playing clarinet and flute, and also creating sound effects using chimes and other inventions.
While on that station, Kas was given his own show along with singer and pianist Olive Nelson. The popular show was called "Olive and Stranger," and they played modern music. Kas also played with the Rosebud Kids, a German family named Kosta, from the Rosebud Indian Reservation. "Five dollars was pretty big and I got $10 for a dance on the side from the radio station," says Kas.
In 1934 he got his San Francisco Musicians' Union card, sold his car, and got a job playing on the cruise ship S.S. Cooledge which needed a bass player. They played concert and dance music and for forty-seven days travelled to Hawaii, Japan, Shanghai, Hong Kong, and Manila. Upon his return, he learned that someone needed a bass player on the boat to New York City and so he boarded the Grace Line ship Santa Elena and headed east. In New York, he stayed just long enough to find out that he preferred the prairies to "conditions prevailing" and headed westward once again, joining Jack Savage in Columbus Ohio in a band promoting Crazy Water Crystals, a medicinal tonic from Mineral Wells, Texas. England forebade commercial broadcasting, and so to sell the medicinal tonic there, the company set up a store in London but advertised from Luxembourg. Though Kasper was invited to join the band to travel to Luxembourg (they stayed there 18 months), he had met his first wife Virginia and with her, settled down in Yankton South Dakota and had two daughters.
In 1943 Kasper began a stint of 2 years and 12 days on Catalina Island in the USS Maritime Service Band led by Phil Harris. After the war, times were tough, so in addition to playing at a club near Glacier Park, Kas also carried mail.
In 1953 he joined Jack Teagarden's Jazz Orchestra at the Royal Room on Hollywood Boulevard. Kas and Jack became fast friends and Kas continued to tour with him for three years, as well as living with Jack and his family. With the Teagarden All Stars, Kas played string bass and was featured as well on flute on such numbers as "Stardust," "Indian Summer," and "Body and Soul." Kas and Jack discovered that they had a number of strange "coincidences." Both had the same injured finger. Both had a brother named Clois. Both bought a five dollar baritone horn when they were nine years old. Both were given a baritone horn by an uncle when they were ten.
Feeling a yen to settle down, Kas accepted a job with the Tucson Symphony and was hired on the staff of the University of Arizona. In the Symphony he was Principal Bass, and at the university he taught bass for thirteen years. During that time he also participated in the American Symphony League Orchestra summer workshops, which became one of his most treasured experiences. The one-hundred piece symphony included players from every major orchestra around the United States and Europe and was led by master conductor Dr. Richard Lehrt from Pasadena California.
As seen already, Kasper's life has included much travel. In 1969 he walked around Ireland with a backpack and a flute. He found the Irish to be exceedingly hospitable. "The Irish won't let you walk," he recounts. While walking in Ireland he was picked up by a Catholic nun who took him right away to play with her choir. After his Irish adventure, Kas got a Eurail Pass and travelled around Europe using his music as a passport and an introduction to adventure.
In 1973 Kas moved to Winsbach Germany where he was to marry his second wife and spend the next twenty years. In Germany he taught privately with the world famous Boys Choir and had private students in clarinet, flute, and bass.
In 1993 Kasper decided it was time to come back to the United States. He returned to Rome Georgia, found it "ideal" and settled there in the middle of town where he lived to the end of his life, just one city block from where he played the Rivoli Theater in 1925.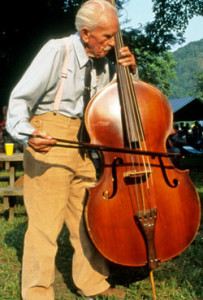 Since returning to the United States, Kasper "Stranger" Malone never slowed down his playing. From his first appearance on 78 RPM records for Columbia in 1926, to his latest performance on EMWorld Records in 2003 with Elise Witt, Kaspar "Stranger" Malone's 77 year career in recording is unchallenged for longevity. It is suspected that he will be entered in the Guiness Book of World Records for the longest career in recording history. The Georgia Music Hall of Fame recently presented "An Evening with Stranger Malone" highlighting his long and diverse career in music. Stranger also received the 2004 Founder's Award from the Country Music Hall of Fame, and the Swannanoa Gathering is planning to award him a Lifetime Achievement Award at this summer's gathering.
---
WHO'S THAT STRANGER?
A film by George King
"Who's That Stranger?" is a 30 minute documentary about a remarkable musician, Kasper 'Stranger' Malone. At 95, Stranger holds the Guinness World Record for the longest recording career in history (1926-2005). When we shot the film in 2004 & 2005, he was playing two or three gigs a week-often traveling alone by Greyhound Bus with all his instruments. As the baby boomers prepare to retire and many Americans come face-to-face with their own aging, this film presents an inspiring picture of vitality from someone who simply kept working, 30 years beyond retirement.
The DVD is priced at $25 a copy plus $5 shipping and handling. http://www.filmbaby.com/films/2003
http://www.georgeking-assoc.com/whos-that-stranger/
---
* NOTE FROM STRANGER'S FAMILY
The biography has things that I didn't know about dad, but that was kind of the way he was.
Left out was his stint on WIBW, Topeka, Kansas, where he did radio comedy as a character named, "Pappy Chiselfinger". Donna was born in Topeka. Dad played with Lawrence Welk at WNAX, Yankton, South Dakota as well as the Rosebud kids. The Kosta family took their name from the Rosebud Reservation but I don't believe that any of them lived there. Ossie Kosta, the father had been in the Cavalry and had ridden at Powder River. Dad also played on KOA Denver and with the Denver Symphony, the San Francisco Symphony as well as the Tucson and Rome Symphonies. He went on the road with Pee Wee Hunt in 1951 and we toured on the road with him, that summer. Pee Wee Hunt, Carl Fisher (accompanist and composer for Frankie Lane), Glenn Waller (drummer with Pee Wee Hunt), Mailand Clark (I'm not sure of the spelling but he played with Lawrence Welk television orchestra and married Peggy Lennon, one of the Lennon sisters), and a number of Hollywood studio musicians served with dad in the Maritime Service. They made recordings for the men stationed in all parts of the world.
Dad was a cousin to Mattie Matlock, famous jazz clarinetist, and I believe "Yakkety Sax, Boots Randolf was also a cousin, though he may be once removed.
Dad married 3 wonderful women. Virginia Christensen (deceased), Verna (a violist with the Tucson Symphony and now deceased) and Elke Daucher (I don't know if that is spelled correctly) who resides in Germany. Dad made sure that Elke would have a small annuity to help her through her golden years.
Kasper is survived by 2 daughters, 1 stepdaughter and 1 stepson, 11 grandchildren and one step-grandchild. His daughters and grandchildren have inherited his love of good music and books.
He lived a great many more places than are named but they were just on his way to some other place. He was very happy, back in Rome, Georgia. His professional life had begun there. As a teenager, he had nearly died of pneumonia in nearby Armuchee and had been taken in by strangers and nursed back to health. It was fitting that he ended his life amongst people who loved and respected him, at home in Rome, Georgia.
Kasper had 6 grandchildren and 11 great grandchildren (one of the eleven will debut in June, we have seen her ultra-sound picture and feel like she is with us already), with two stepchildren and one step grandchild.
Thank you for taking the time to write such a beautiful biography of our father. He would be embarrassed by the testimony but he always spoke so highly of you; he would understand that you wanted to do this.
Patricia A. Poos nee Malone