In concert
Sunday. November 19,2017
Fire Benefit II:
Grace Gratitude & Giving
A benefit for the Redwood Empire Food Bank
2:00 – 6:00 pm Free Music on the grounds

7:30 pm NATURAL RHYTHMS

Elise Witt, Becky Reardon, Terry Garthwaite w/special guest Nina Gerber
8:30 pm DUO QUARTET:
Nina Gerber, Chris Webster & Pam Delgado, Jeri Jones (Blame Sally)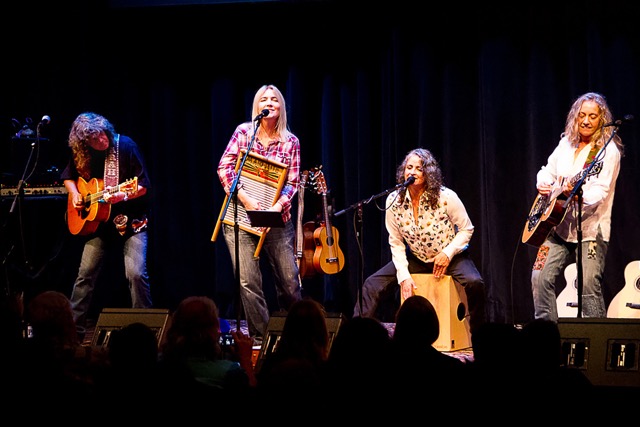 @ Sebastopol Community Cultural Center
 
~ IN CONCERT ~
Combining three unique voices into a harmonious blend, the Natural Rhythms Trio cooks from the minute they hit the stage. Their mad and moving musical adventures might include a polyrhythmic improvisation on the physics of sound, a playful musing on the simple life of an amoeba, an anthem to wild rivers, or a musical ride on the love train. The trio's concerts are also famous for getting the audience singing, and even self-professed "non-singers" surprise themselves to become part of an impromptu glorious chorus!
"This may be the most unusual and musically exciting concert we have presented in our 11 years of 178 concerts!"
~ Jack Sartain, Producer, Music for Missions Concert Series, Tucker GA
~ THE MUSICIANS ~
Becky Reardon
Becky's voice is familiar to the millions of people who heard her sing on the Charlie Brown TV specials (Charles Schultz called her his favorite singer!). Becky's songs and rounds are treasured for their ability to move singers and listeners to ancient places of pleasure and healing and have been collected in five CDs and books. She teaches and performs nationwide, using improvised singing and movement to illuminate and resolve conflict. www.BeckyReardonMusiccom
Terry Garthwaite
Terry is an internationally known singer, songwriter, composer, producer, and teacher. Her recording career dates back to the late 1960s, when she and Toni Brown formed the acclaimed rock group, Joy of Cooking. With a voice both "sassy and touching," Terry has shared the stage with BB King, Janis Joplin, Bonnie Raitt, The Band, Allen Ginsberg, Santana, Rosalie Sorrels, and many others. She currently leads vocal retreats, drum circles, and classes in singing together, playing with sound, and digging the musical garden. Her recent recordings reflect the healing nature of music, and her 2017 release, Shine On, encourages empowerment and delight. www.TerryGarthwaite.com
Elise Witt
Elise is a singer, composer, musical ambassador, and community activist. Described by the Lincoln Center as a "honey-voiced songwriter who sings the world," Elise speaks five languages fluently, sings in over a dozen more, and has been a cultural ambassador to South Africa, Italy, Nicaragua, Switzerland, China, and Bosnia. Her latest CD, We're All Born Singing, is her 12th recording for the independent EMWorld Records, and she has collaborated with UUCSS Music Director, Michael Holmes, on choral arrangements of more than 20 of her compositions. www.EliseWitt.com
"Their voices are each unique in color and timbre, yet when combined, create a beautiful unified sound that melts the audience and carries them home."
~ Donald Milton, Director of Music, Unitarian Universalist Congregation of Atlanta, GA