[et_pb_section admin_label="section"][et_pb_row admin_label="row"][et_pb_column type="4_4″][et_pb_text admin_label="Text" background_layout="light" text_orientation="left" text_font_size="14″ use_border_color="off" border_color="#ffffff" border_style="solid"]
Full MOON Singing Adventure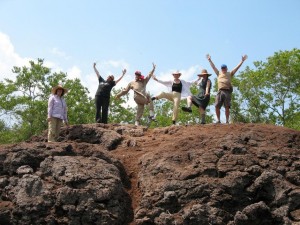 Sing on the wild, protected barrier island of Ossabaw in coastal Georgia, a State Heritage Preserve. We join our voices to sing about and with the environment and our communities. We also have ample time to explore and learn about one of our majestic barrier islands. Full details available when another Ossabaw trip is planned. Blood & Thunder, a 1-hour film about Ossabaw Island by Max Ramming http://vimeo.com/31225503
[/et_pb_text][et_pb_toggle admin_label="Toggle" open="off" title_font_size="16″ body_font_size="14″ use_border_color="off" border_color="#ffffff" border_style="solid" title="Registration"]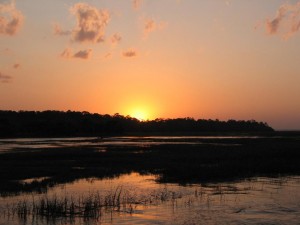 REGISTRATION
Cost of this unique 4-day workshop is $495 if you choose to stay in the Clubhouse, or $665 if you choose the more private Boarding House. See more about Housing below. Price includes boat transportation from and to Savannah, accommodations in the Clubhouse or the Boarding House, delicious meals by Harriette Bugel of True Color Cooking, a natural and cultural history tour of the island, daily singing workshops with Elise, and plenty of impromptu singing. Registration is limited to 16 participants, so register early and pay in full to guarantee a space! Mail check to: EMWorld Records, PO Box 148, Pine Lake GA 30072
[/et_pb_toggle][et_pb_toggle admin_label="Toggle" open="off" title_font_size="16″ body_font_size="14″ use_border_color="off" border_color="#ffffff" border_style="solid" title="Singing Adventure"]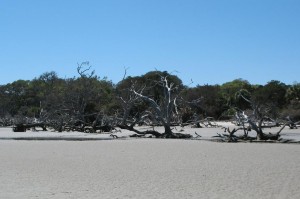 SINGING ADVENTURE
This weekend is an opportunity for individuals to learn more about their own voice, to build community through group singing, and to explore and celebrate the natural environment in song, letting ourselves be inspired by the beautiful nature of Ossabaw Island. Singing sessions will include warm ups, exercises and games combining vocal and physical activities, songs from many cultures, and exciting vocal improvisations. We will explore the rainbow of colors of which our voices are capable and make new discoveries about ourselves, our group, and our environment. This workshop is open to and appropriate for experienced and new singers alike, and music reading is NOT a prerequisite.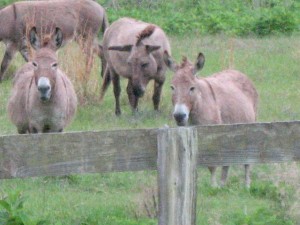 ISLAND ADVENTURE
One day will be spent exploring the more than 26,000 acres of maritime forest, tidal wetlands, and wide beaches on the Atlantic Ocean. Ossabaw Island is an unspoiled place set aside by the State of Georgia as a heritage preserve for natural, scientific, and cultural study, research, and education. With our guide, a naturalist from the Georgia Department of Natural Resources, we will visit the Rookery, where hundreds of wood storks nest alongside herons, egrets, and other coastal birds. Other highlights include South Beach and Middle Place, and the Tabby Cabins. You can read more about the island's cultural and natural history at http://www.ossabawisland.org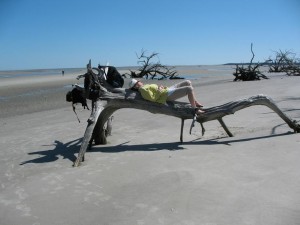 ACCOMMODATIONS: The Clubhouse & The Boarding House
The restored 1880s Club House on the north end of Ossabaw is where most of us will stay. It offers dormitory style accommodations for 20, with 2 basically equipped kitchens, 3 full baths, a living room and wrap around porch.
For those who would like a little more privacy, there is the Boarding House, which offers private rooms with double occupancy single beds and private bathrooms. The cost for the Boarding House will be an extra $170 (total weekend cost $665).
For more information on the island and its accommodations please visit http://www.ossabawisland.org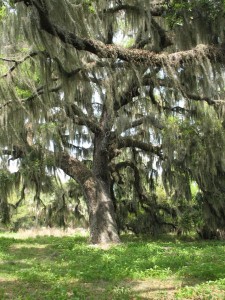 TRANSPORTATION
Transportation to and from Ossabaw Island will occur via boat charter from Delegal Marina at The Landings on Skidaway Island (just outside Savannah GA) and is included in the registration fee. We will also have on-island transportation for a day-trip to learn more about the natural and cultural history of Ossabaw. Participants are responsible for arriving at Delegal Marina on their own.
FOOD
Harriette Bugel of True Color Cooking (Asheville) will be planning and organizing our meals. Food for breakfast, lunch, and dinner will be provided. We will share the preparation and cleanup of meals, so that the kitchen will provide added opportunities to build community in our group and practice the songs we've been learning! If you have special dietary needs or desires, please let us know. Harriette specializes in specialty foods, but do plan to bring specialty items with you.
WHAT TO BRING
Be prepared for variable weather. Bring comfortable, casual clothing to layer, sturdy walking shoes, a hat and raincoat, bathing suit, plenty of bug spray and sunscreen, musical instruments, snacks and any other special needs.
ELISE WITT  www.elisewitt.com
"She could get a colony of ants to sing!" effused a student at a recent Elise Witt workshop. The Kennedy Center calls Elise Witt "a performer to remember with international savvy & personal charm."  Elise was born in Switzerland, raised in North Carolina, and since 1977 has made her home in Atlanta. She speaks 5 languages fluently, sings in over a dozen more, and has been a cultural ambassador to South Africa, Italy, Nicaragua, Switzerland, & China. She recently premiered the Elise Witt Choral Series, and released Valise, her 11th recording for EMWorld Records. Elise has earned a reputation as a masterful educator, encouraging even the shyest singers to revel in their voices. She has spent the last 6 years in intensive study with world renowned vocal improvisor Rhiannon (Bobby McFerrin's Voicestra, WeBe3, and Alive). Elise's workshops and concerts use music as a language to honor our cultural diversity while celebrating our connections as one human family. Her concerts are famous for turning audiences (even self-professed "non-singers") into an Impromptu Glorious Chorus™.
[/et_pb_toggle][et_pb_toggle admin_label="Toggle" open="off" title_font_size="16″ body_font_size="14″ use_border_color="off" border_color="#ffffff" border_style="solid" title="Schedule"]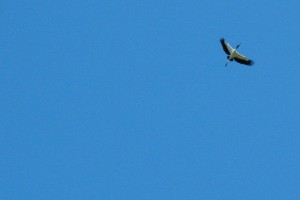 SCHEDULE
(all plans subject to change and group desires)
THURS. APRIL 25, 2013
10:00 am Depart Delagal Marina  (please try to arrive by 9:30 a.m. subject to the tides)
2:00-5:00 pm Intros and Singing Workshop
7:00 pm Dinner and casual singing and sharing circle
FRI. APRIL 26, 2013
Early Morning  Physical & Vocal Warm up and Breakfast
9:30 am -2:30 pm – Natural and cultural history tour of Ossabaw with picnic lunch
3:00 -6:00 pm Singing Workshop
7:00 pm Dinner and casual singing and sharing circle
SAT. APRIL 27, 2013
Morning Singing Workshop
Afternoon Personal Time and more singing
7:00 pm Dinner and casual singing and sharing circle
SUN. APRIL 28, 2013
9:00-11:00 am Singing Workshop and wrap up
11:00 am -12:30 pm Lunch and pack up
12:30 pm Depart Ossabaw Island to arrive back in Savannah by 2:30 pm (subject to tides)
[/et_pb_toggle][et_pb_toggle admin_label="Toggle" open="off" title_font_size="16″ body_font_size="14″ use_border_color="off" border_color="#ffffff" border_style="solid" title="Past Participants Say…"]
Magnificent, mellifluous, divine… These days have held wonders galore.
Maggie (New Haven CT)
How lucky I feel to be brought into your musical world. Thank you for accepting me where I am and for your gentle pull. You are the best voice teacher I've ever had.
Priscilla (Santa Fe NM)
I trusted you to create a safe space. You did, and I thank you for it.
Dave, (Atlanta GA)
Thank you for modeling teaching excellence.
Renate (Asheville NC)
A life changing musical experience.
Nancy (Deland FL)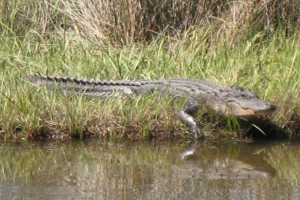 Your wise, silly, profound ability to promote being alive through singing is a treasure….and to us, a gift.
My re-entry has been unusually calm. The worldly flurry is everywhere around me, but the deeper place that was accessed with all of you is still with me….like a comforting filter.
Missy (Springville AL)
You have such a great ability to bring out the best in us and remind us of the only spot we really occupy in this world. We either harmonize or we don't and it is our choice. And the only activity we should be engaged in is LISTENING so we CAN harmonize. This is so much more than music. How I would like to be with people who have been thru a weekend like this every day.
KB (Lexington VA)
There's never any doubt in my mind that an Elise Event will be spendiferous. To combine that with such a compelling environment is  to double the blessing. I'm so glad I finally got to see Ossabaw. The constellation of souls that gathered for the weekend was especially brilliant. Thanks for all you bring to the world – it's always a privilege to share it.
Ginny (Hickory NC)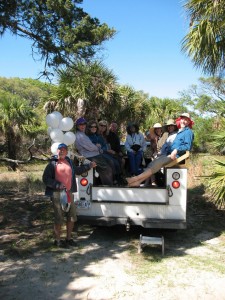 So grateful to get away from the hustle and bustle of the world and get back to nature. I'm bringing the light back with me.
Jennifer (Atlanta GA)
I heard you when you said "Don't hold back!" Thank you for challenging and encouraging. I hope to sing with you many more times.
Laura (Ann Arbor MI)
Renewing, revitalizing, invaluable, incredible!
Ellen (Hamden CT)
You helped me find my singing voice.
Kim (Atlanta GA)
Fantastic!
Amy (Elkins WV)
[/et_pb_toggle][et_pb_blog admin_label="Blog" fullwidth="off" include_categories="240″ show_thumbnail="on" show_content="off" show_more="on" show_author="off" show_date="off" show_categories="off" show_comments="off" show_pagination="off" offset_number="0″ background_layout="light" use_dropshadow="off" header_font_size="18″ meta_font_size="14″ body_font_size="14″ use_border_color="off" border_color="#ffffff" border_style="solid"] [/et_pb_blog][/et_pb_column][/et_pb_row][/et_pb_section]