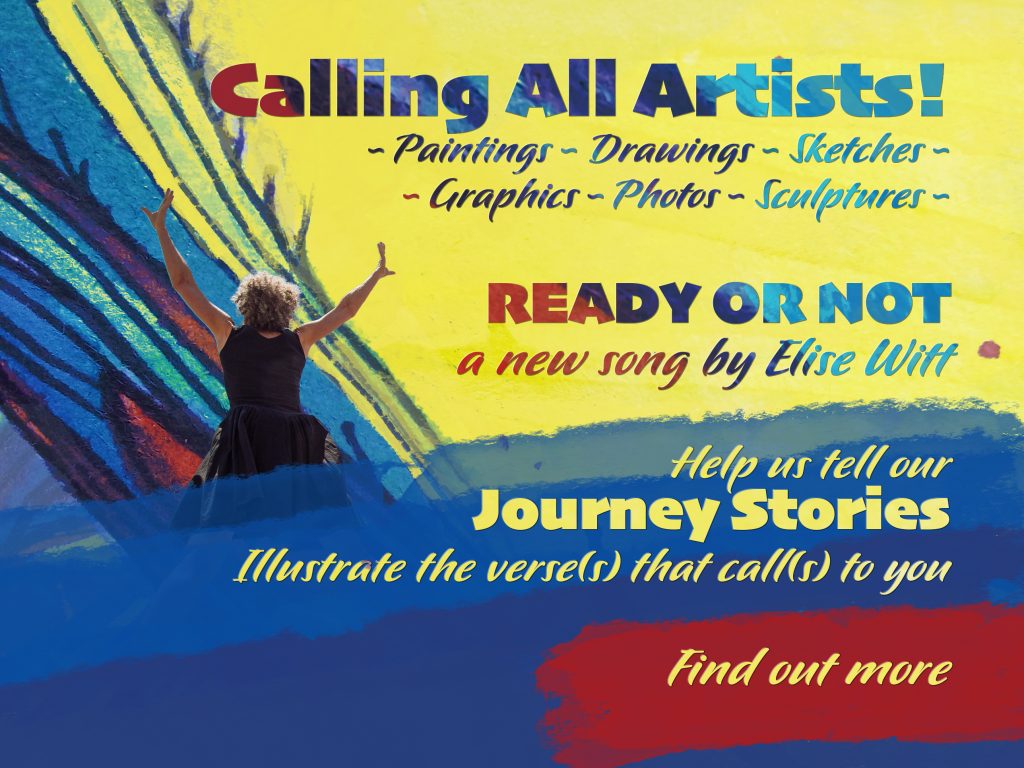 Calling artists of all ages!
We are working on a NEW MUSIC VIDEO to tell our JOURNEY STORIES.
"Ready or Not" imagines our human journeys, through the image of packing a magic suitcase. At first whimsical, like Mary Poppins' carpet bag, the song also moves us to the journeys taken as forced migration, the refugee's journey, packing quickly the things most precious, tangible and intangible, objects as well as memories.
We are looking for illustrations to bring this story to life. We are inviting artists, near and far, of all ages and all disciplines, to illustrate their favorite verse(s).
We will use your artwork to create the READY OR NOT music video.
Ready or Not
"Ready or Not" begins with a song composed by Elise Witt, commissioned by Carpe Diem Arts with the Daily Antidote of Song. Next, the song invites ARTISTS from around the globe to illustrate one or more verses, in whatever artistic medium they like, for whichever verse(s) speak(s) most potently to them. Singers are invited to contribute harmonies and add verses to the song. The visual and musical art contributions are then compiled into an innovative music video by artist Jessica Lily with a soundtrack by Elise and local Atlanta musicians.

During the early days of the pandemic, Jessica and Elise collaborated on a similar project, commissioned by the Smithsonian Folklife Archives, Carpe Diem Arts and the Daily Antidote of Song.. A multi-disciplinary project involving artists from around the globe, illustrated Elise's re-visioning of a traditional "color song," JENNY JENKINS. Artists ranged in age from 1-83, and the art submitted included drawings, paintings, sculpture, sketches, graphics, and more. The re-imagined song focused on the January 2021 Georgia Senate election, to get out the vote, and encouraged deep reflection about the state of our local and global communities.

This new project invites artists and musicians of all ages and experiences to imagine, in image and sound, what is most precious and important to our health and the health of our planet.
From personal to communal to global – what are the journeys we must undertake to, in the words of the MacArthur Foundation, "create opportunities for exultation as we recognize the potential to create objects of beauty and awe, advance our understanding of society, and foment change to improve the human condition."
Here's how to become a part of this project:
1) Listen to the song and read the lyrics, at the bottom of this page.
2) Choose your favorite verse(s) and have fun making artwork to illustrate it
~ Paintings ~ Drawings ~ ~ ~Sketches ~ Graphics ~ ~Photos ~ Sculptures ~
3) Scan or photograph your artwork
* Use even lighting, no shadows
*Use natural light when possible, either outdoors or indoors
4) Email the scan or photograph of your artwork to Art Director Jessica Lily – jessica.lily11@gmail.com & in the email let us know:
* Who to credit for your creation

* Tell us which verse you've illustrated (tell us in your email – no words on your drawing)

 
Deadline to receive your Illustrations is THUR. Nov. 4th, 2021
We're looking forward to creating with you!
Jessica & Elise