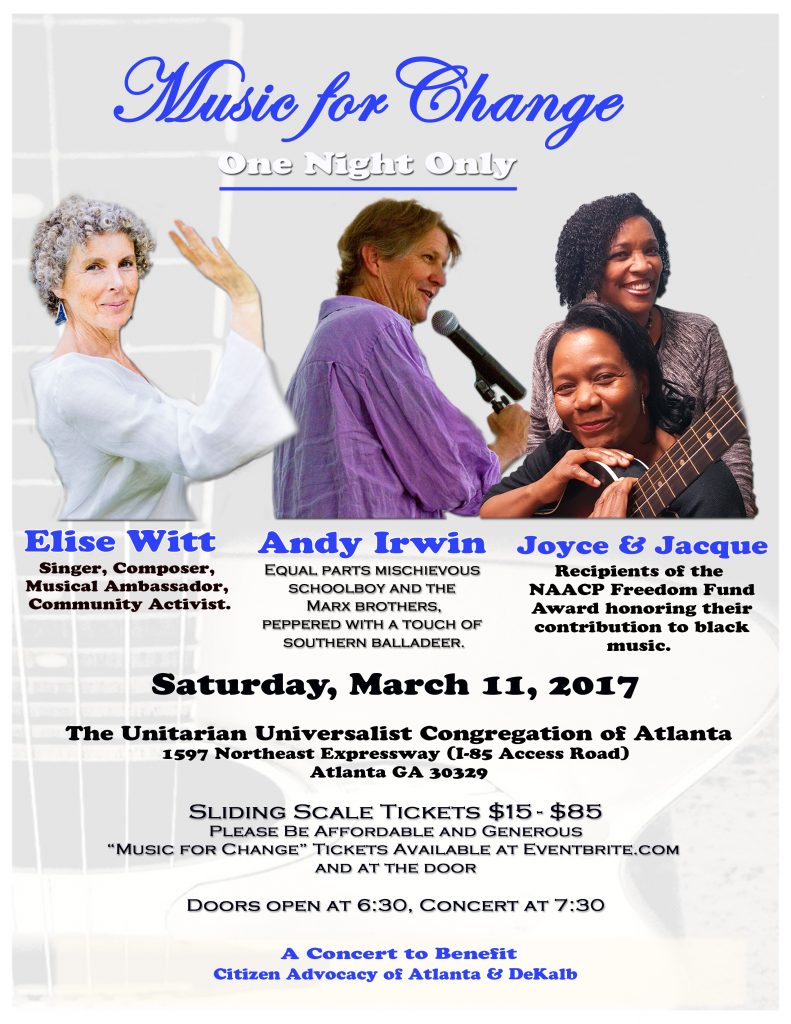 ~ Andy Offut Irwin ~
Storyteller, humorist, musician, public speaker, educator, whistler, show-off. With a silly putty voice, hilarious heart-filled stories, and amazing mouth noises (arguably, the greatest whistler in the world) one-person-showman, Andy Offutt Irwin, is equal parts mischievous schoolboy and the Marx Brothers, peppered with a touch of the Southern balladeer. One of the most sought after performing storytellers in the United States, Andy is especially known for relating the adventures of his eighty-five-year-old-widowed-newly-minted-physician-aunt, Marguerite Van Camp, a woman who avoids curmudgeonship by keeping her finger on the pulse of the changing world around her as she seeks to grow – even at her advanced age – in the New South.  Marguerite steps lively through this existence, loving as many people as she can.
~ Joyce & Jacque ~
Every once in a while, someone plays music that stops you in your tracks, music that mesmerizes and moves your soul.
Joyce & Jacque, with their "voices of angels," perform original music that is not easy to categorize. The two met while attending Spelman College in Atlanta, and formed their duo a few years later in Boston, where they were both pursuing graduate degrees. They have shared the stage with power house singers including Aretha Franklin, Gladys Knight, The Pointer Sisters, Sweet Honey in the Rock, Nina Simone, Odetta and many others.
Joyce & Jacque's recordings include, "Higher Ground,"  "Sing A New Song" and "Revive Us Again" with a new recording on the horizon. Their stellar vocals have earned them the New South Music Showcase Award for Best Folk Band, the Kuumba Award from Delta Sigma Theta,  the New South Music Award for best folk band, and the NAACP Freedom Fund Award honoring their contribution to black music along with other artists such as Dottie Peoples, Outkast and The Pips.
As master teachers, Joyce & Jacque inspire children and adults alike through workshops, artist-in-residency projects, youth conferences and summer camps. While the duo does not claim to have the cure for inner city violence, AIDS or drug abuse, they do hope their music will lead others to the well of healing. Drawing from their Christian faith and incorporating hard-hitting issues, the two minister to the human condition through the heart. JOYCE & JACQUE leave their audiences motivated to keep hope and faith alive in today's world.
When we seek to discover the best in others, we somehow bring out the best in ourselves. ~ William Arthur Ward

How does Citizen Advocacy Work?
A valued citizen, who is unpaid and independent of the human services system, is invited by citizen advocacy coordinators into relationship with a person who is living with a disability and is vulnerable to abuse, neglect, or social isolation.
With the coordinators' support, the citizen advocate learns to understand, respond to, and represent that person's interests as if they were the advocate's own, thus bringing the person's gifts and concerns into the circles of ordinary community life.
Friendship, social support, and social change can all emerge from these intentional relationships. By supporting these ongoing, potentially life-long, relationships, citizen advocacy fosters a community where all people's gifts and talents can be shared and celebrated.
I have yet to encounter a safety net of laws, rules, regulations, and policies that was any stronger than a single, concerned and engaged person, standing shoulder to shoulder with a person, navigating the daily challenges of life in the community. ~ Clarence Sundram