Celebrate Elise's new CD
"We're All BORN SINGING"!!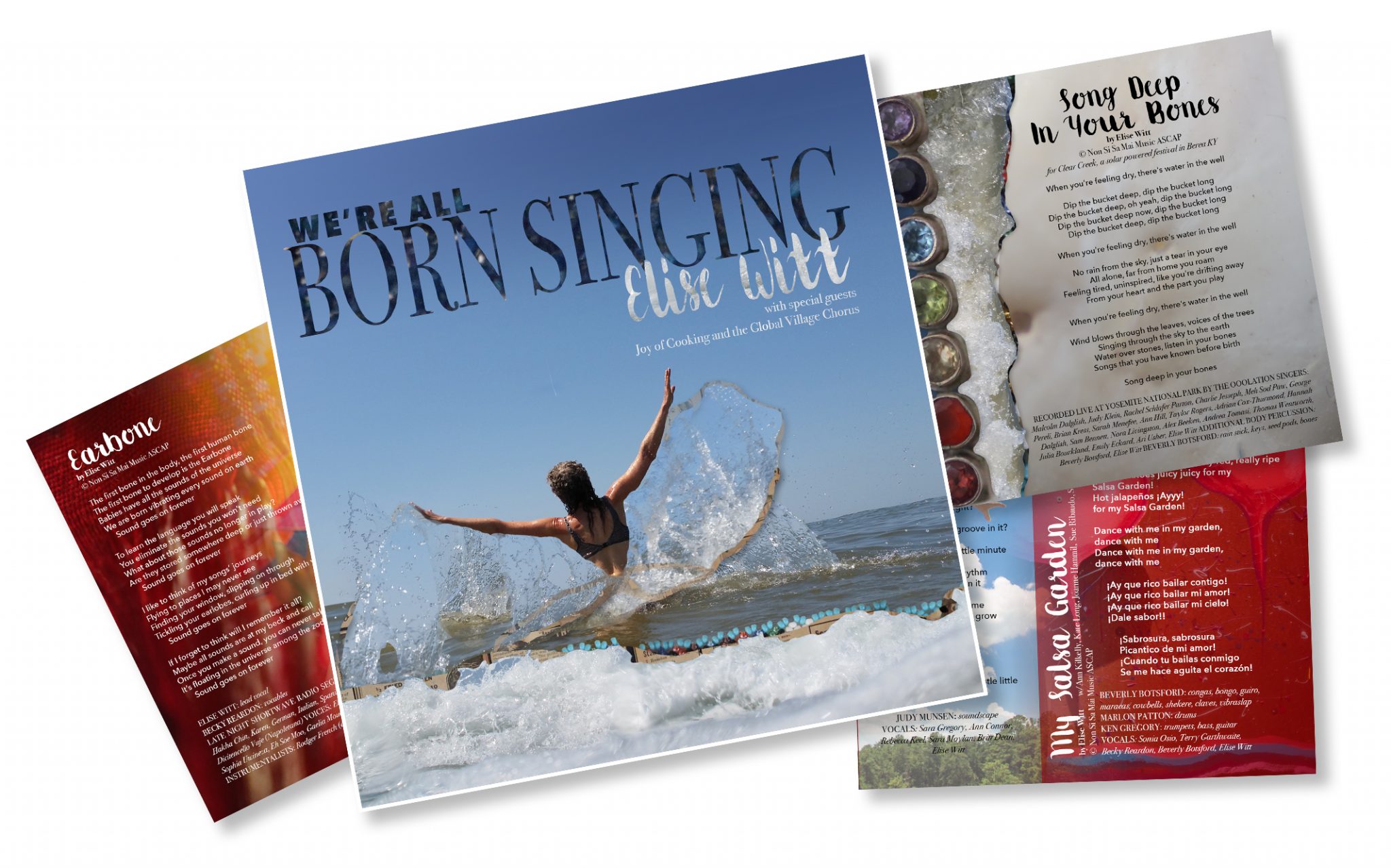 with
ELISE WITT & Special Guests
Bobby McFerrin's Voicestra founding member Rhiannon calls Elise's new CD "brave and beautiful!" We're All BORN SINGING is a wild departure from the 11 previous recordings for this Atlanta-based, North Carolina-raised singer. Spoken word, choral pieces, and soundscapes, join with an array of lush arrangements celebrating the power of music, especially singing to vibrate us body and soul and bring us together as community.
Collaboration has been the name of the game in recording these songs. And because the theme of the music is centered around the human voice, there are some wonderful singers adding their voices to the mix, inlcuding students from the Global Village Project, a school for teenage refugee girls in Decatur GA, where Elise is the director of Music Programs.
Durham-based cross cultural percussionist Beverly Botsford helped arrange and is featured on "My Salsa Garden," a recipe for salsa set to salsa music, and "My Journey Yours," a musical story of the refugee's journey.
Elise says, "Perhaps my favorite instrument on the CD is the Glass Harp. Atlanta's Brien Engel travels all over the world with 50 glasses sized from a giant brandy snifter to tiny shot glasses. The Glass Harp appears on the songs Bees Make Honey and Amoeba. By the way, Brien also plays Mbira (Zimbabwe thumb piano) which you will hear on I See You With My Heart one of several musical language collages."
We're All BORN SINGING was co-produced by Elise and Terry Garthwaite from the iconic Bay Area band Joy of Cooking.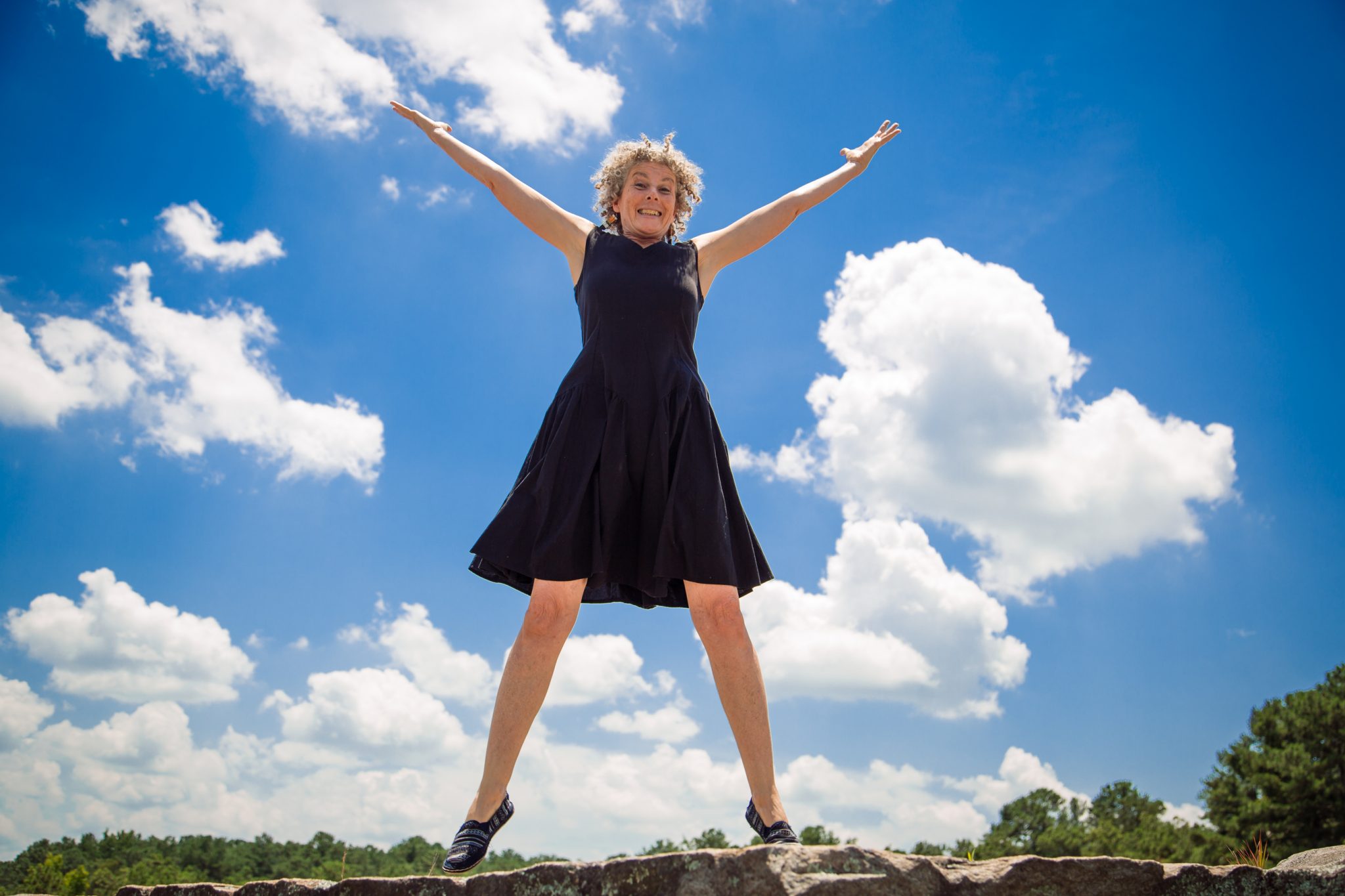 The producer of the Kennedy Center's Millennium Stage calls Elise Witt a performer to remember with international savvy & personal charm. Elise was born in Switzerland, raised in NC, and since 1977 has made her home in Atlanta. She speaks five languages fluently, sings in over a dozen more, and has been a cultural ambassador to South Africa, Italy, Nicaragua, Switzerland, China, and Bosnia.
For 20 years, Elise sang with the Atlanta Symphony Orchestra Chorus and Chamber Chorus under the direction of maestro Robert Shaw, and in recent years, she has studied extensively with masters of improvisation Bobby McFerrin, David Darling, and Rhiannon, African vocal expert Dr. Fred Onovwerosuoke, and Sweet Honey in the Rock's Dr. Ysaye Maria Barnwell, all of whose pedagogy she incorporates into her own teaching. She has earned a reputation as a masterful educator, encouraging even the shyest singers to revel in their voices. As a Residency Artist, she has worked with students in elementary schools through high schools and universities, as well as with professional ensembles and community groups around the US and across the globe. Recipient of the William L. Womack Creative Arts Award, Elise currently serves as Director of Music Programs at the Global Village Project, a school for teenage refugee girls in Decatur GA.
Elise's latest CD We're All BORN SINGING, is her 12th recording for the independent EMWorld Records, and 20+ of her compositions have been arranged for choruses and choirs in the Elise Witt Choral Series.