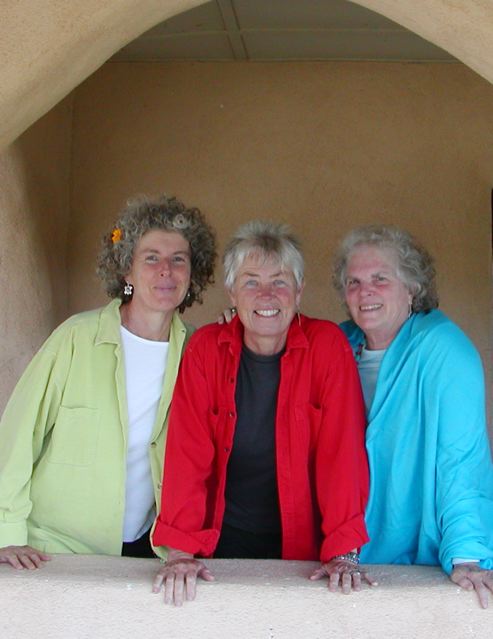 Elise Witt, Becky Reardon, Terry Garthwaite
2:30 – 5:30 Natural Rhythms Singing Circle Workshop
8:00 p.m. Concert
@ Private Home, Catonsville MD (Address sent upon registration)
~ In Concert ~
Whether it's a polyrhythmic improvisation on the physics of sound, a playful musing on the simple life of an amoeba, an anthem to the wild rivers, or a musical ride on the happiness train, Terry, Becky & Elise cook from the minute they hit the stage. Imagine Janis Joplin, Joan Baez, Annie Ross and Edith Piaf taking a turn from Barbara Kingsolver and Dr. Seuss, and you'll have some idea of these mad and moving musical adventures. Bringing 3 uniquely different voices to their harmonious blend, Terry, Becky & Elise's concerts are famous for getting the audience involved, and even self-professed "non-singers" find themselves part of a glorious choir.
~ Singing Circle Workshop ~
Singing together takes us deeply into the experience of being held and lifted, making music together. We will sing songs of celebration, ceremony and community, songs celebrating the earth and our own spirit and creativity, songs of healing and passage, songs of playfulness and joy. We will explore our wildly versatile voices in the rainbow of colors available to us individually and as an ensemble. Each member of the Trio brings her specialty to the circle. Drawing from her love of diverse melodies and rhythms, Elise might introduce a Brazilian samba, a Congolese storysong, an Italian round, or four-part harmonies from Zimbabwe. Becky's connection to nature and jazz brings us to listening deeply to our own voice and to each other. Deeply rooted in rhythm, Terry introduces music interweaving and interlocking us in vocal percussion. There are also lots of Terry/Becky/Elise originals, and all the songs are broken down into easily learnable parts and become thrilling to sing in a group. Even people who think they "can't carry a tune in a bucket" in no time find themselves part of a glorious choir. Music reading is not a prerequisite.
"This may be the most unusual and musically exciting concert we have presented in our 11 years of 178 concerts!"
~ Jack Sartain, Producer, Music for Missions Concert Series, Tucker GA
"You were simply awesome and, as one customer put it, it was pure magic and the best show she's ever seen!"
     ~ Merle Dollar, Proprietor, Local Color, Springville AL
"Their voices are each unique in color and timbre, yet when combined, create a beautiful unified sound that melts the audience and carries them home."
~ Donald Milton, Director of Music, Unitarian Universalist Congregation of  Atlanta, Atlanta GA
"'Supergroups' don't always gel together onstage, but this one sure does. Terry Garthwaite is a walking masterclass in blues and rock vocalise, Becky Reardon's songs, voice, and acoustic guitar reveal jazz roots, and Elise Witt's deep appreciation for and fluency in international folk musics open up the entire world in a single voice – and everyone is made welcome to sing along. Each performer seems to be completely at ease in the intimacy of a house concert or the formality of a large stage, and everyone involved is reminded that rhythm is what makes music move. What should we call this wonderful, unpredictable amalgam of talent and sound? How about 'American music'?"
~ Andy Ditzler, Frequent Small Meals Concert Series